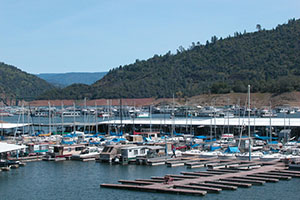 Some folks prefer sunrises, but we're partial to sunsets, and we don't think they come any better than those shining their colors across Lake Oroville. Since they're twice as nice if you're surrounded by water, why not enjoy one the best way, viewed from the deck of a houseboat.
Both marinas have party boats, ski boats, fishing boats, wave runners, skis/toys available for rent at a nominal charge, and Lake Oroville Marina rents houseboats. You can get snacks to take along, as well as bait and tackle if you want to fish, in their grocery store. And then there's the party barge — huge patio boat/dance floor/campsite/conference room — it's all of these.
Camping and picnic facilities are available near both marinas. Call ahead to be sure of a boat when you arrive.
Bidwell Marina
801 Bidwell Canyon Drive
Oroville, CA 95966
530-589-9175
www.bidwellcanyonmarina.com
Lake Oroville Marina
3428 Pentz Road,
Paradise, CA 95969
530-877-2414 or 800-255-5561
www.lakeorovillemarina.com