To help make your visit to Oroville fun and rewarding we have put together an exciting day of museum hopping. Oroville is blessed to have one of the finest if not the finest working Chinese Temple & museum in the United States. The only tool museum in the world also resides in Oroville. If you enjoy browsing through a museum, this itinerary is created for you. We can't say, "Leave the driving to us," but we can say, "Leave the planning to us," and "Follow the Greenline." Don't worry about a thing! We have it all mapped out for you.
Morning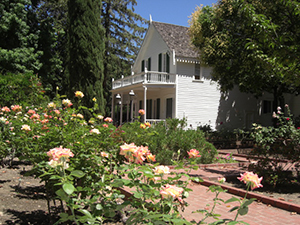 Start your day off at 10:00 AM heading for Sank Park and the Lott Home, a major historical center on Montgomery Street near downtown Oroville dating back to 1856. The Victorian garden was designed to express the taste and affluence of a successful businessman. These geometric style gardens were distinguished by regularity and symmetry. The Sank Park landscape architect was Vernon M. Dean. Straight paved walks, enclosed beds filled with a profusion of flowers, trees and shrubs were carefully grouped to create vistas inviting people out of doors.
A Victorian gothic revival style cottage, the C.F. Lott Historic Home, built in 1856, serves as a cultural repository for decorative art objects which are typical of the homes of Oroville's pioneer families. The collection includes furniture, paintings, rugs, textiles, clothes, silver and glassware of the period, 1849–1910. The Lott Home opens at 10:00 AM To hear a narrative on this historic attraction, dial 530-539-3004 and press 101.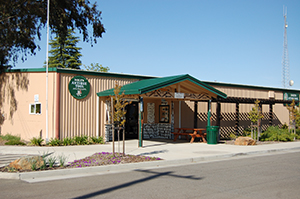 Kids will love the Bolt Tool Museum and so will all the men in your group. Lots of hands-on learning exhibits. All of the tools on display were manufactured during or prior to WWII. There is a collection of adjustable wrenches that measure from a tiny pair about 4 inches long to a giant 12-foot industrial wrench. A set of unusual tools includes a 3-in-1 tool for replacing the belt on a treadle sewing machine. One part of the tool cuts the belt to the correct length, another part punches holes in the new belt, and a third attaches the clamp that holds the belt together.
Lunch
To set the tone for our first afternoon museum, plan to have lunch at Tong Fong Low in Downtown Oroville on Robertson Street. There you will find one of Oroville's busiest restaurants.
Afternoon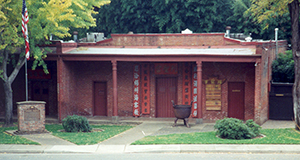 By now you're saying, "That's the best Chinese food I've ever eaten," so let's head to the Chinese Temple, Tapestry Hall & Garden. The Oroville Chinese Temple was built in 1863 to serve a community of 10,000 Chinese. It includes three chapels for each of the major ways of life in China. The main chapel is called Liet Sheng Kong-Temple of assorted deities. It is a place of prayer for various worships including Taoism, Confucianism and Buddhism. The Chan room is a Confucian room for reverence of ancestors. Confucius taught that all human relationships depend upon proper maintenance of the family. The Moon Temple, so called because of its entrance, is Wong Fat Tong – Hall of the Yellow Buddha. The Council Room served a variety of civil and cultural needs of the worker; such as banking, letter writing, discipline and arranging for the burial of the dead.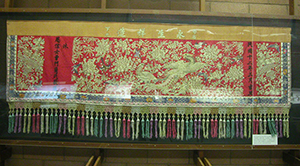 In 1968, Tapestry Hall was built to display the extensive collection of embroidered tapestries, parade parasols and other objects of beauty and value which characterize the best of Chinese folk art. In China, art was never separate from religious and ethical teaching. All objects in everyday use by the common people of China were ornamented by symbols expressing the religious ideas of Taoism, Confucianism and Buddhism.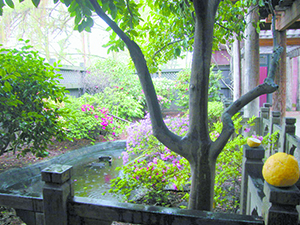 Not an idle pleasure garden, a Chinese garden is designed as a place for meditation and reflection, and is an expression of artistic ideas emerging from an intimate feeling for nature. All its parts are symbolic reminders of the religious principles that guide the search for The Way – Tao. To hear a narrative on this historic attraction, dial 530-539-3004 and press 101.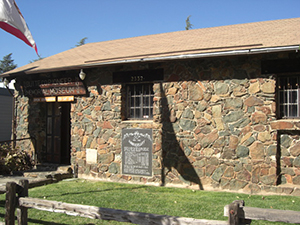 Our second stop this afternoon will be at the Pioneer Museum on our way to the the Lake Oroville Visitor Center. As you approach this storehouse of history, a plaque embedded in the sidewalk catches your eye. "This building is dedicated to Truth, Liberty, & Toleration by Native Sons of the Golden West – May 12, 1932" it reads. Then you may notice the old steps – the first sidewalks of Oroville. And you're not even inside yet! That's how it is at this remarkable museum – one historic treasure after another! To hear a narrative on this historic attraction, dial 530-539-3004 and press 107.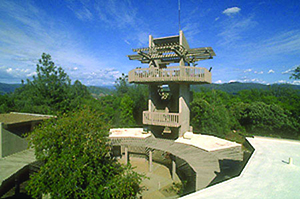 At the Lake Oroville Visitors Center, one will find information about the State Water Project, Oroville Dam, the Feather River Fish Hatchery, history of the area, recreational opportunities, maps, books, and a museum containing displays of the State Water Project, animals of the area, Native American artifacts, and gold-mining artifacts. More than 40 videos are available for viewing on request, covering subjects from history of the gold rush and gold dredging, to wild animals, and ghost towns. Interpretive and educational items such as gold panning materials and children's coloring books may be purchased at the front counter, and outside a 47-foot high viewing tower affords spectacular views of the lake, mountains, and valley.
Evening
At the Lake Oroville Visitor Center you are only a half mile from Lake View Restaurant and Kelly's Bar located at the Lake Oroville Golf and Event Center, 5131 Royal Oaks Drive. Here you can enjoy a beautiful sunset overlooking Lake Oroville, the dam and out into the Sacramento Valley.