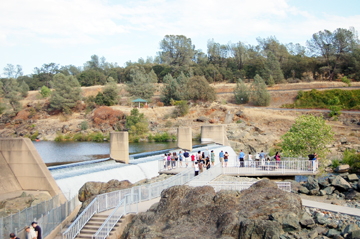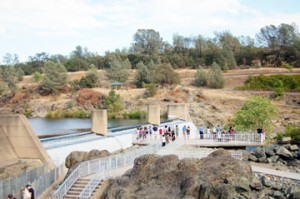 Feather River Fish Hatchery & Nature Center
When Oroville Dam was built, several miles of spawning grounds were no longer available to salmon and steelhead trout returning to their home stream to spawn. To compensate for this loss, the Dept. of Fish & Game and Dept. of Water Resources opened this state-of-the art facility.
The hatchery can accommodate 9,000 adult salmon and 2,000 adult steelhead. The incubators can hold 20 million eggs, and 9.6 million fingerlings can be reared in the eight concrete raceways. During their Fall-run (heaviest in September-November, but extending into February) the fish can be seen, through windows built into the wall, jumping the ladder-like steps leading to the gathering tanks, providing an aquarium-like view.
If you've never witnessed this life cycle, try to find time to watch nature in spectacular action at this official California Watchable Wildlife site.
Built of stone and sitting beside the river just across from the hatchery on Old Ferry Road, the 1930's WPA bath house has been restored and converted into a Nature Center. Beautifully constructed from nature's gifts, it's our favorite structure in the county and a wonderful place to commune with nature during any season of the year. Picnic tables are provided along with the nature!

Feather River Fish Hatchery & Nature Center Park
Off Tabe Mountaiin Blvd. at Feather River Crossing
Visiting Hours: 8am to Sundown
Fish Ladder opens the day after Labor Day.
Tours: (530) 534-2306