There are a lot of things for kids to do in Butte county. Indoors and outdoors quiet things and athletic things. You'll find more to do here than you can find time to do them all. We'll help you explore some of them in each community and these will be things that the entire family can have a fun learning experience doing. Lets get started.
Morning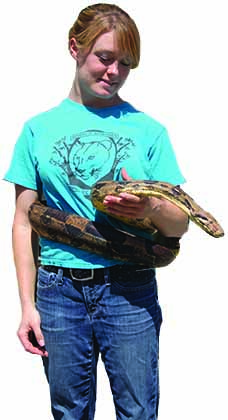 Barry Kirshner Wildlife Sanctuary & Education Center
4995 Durham/Pentz Rd., 530-533-1000, www.kirshner.org
We are going to start the day at The Barry Kirshner Wildlife Sanctuary & Education Center. To arrange a guided tour we need to call the sanctuary in advance at (530) 533-1000. The price for walking on your own is $7 per adult and $6 per child (age 12 and below) and no appointment is necessary. If you can arrange it, the guided tour is the best way to experience the sanctuary.
The Sanctuary is home to a remarkable variety of endangered and exotic animals. Most of the residents living there have "special needs" meaning they can not be introduced back into their natural environment. Wildlife Sanctuary was established to promote an awareness of wildlife and their habitats. You'll see a bobcat, a mountain lion, leopards, tigers, lions, a serval, a caracal, an ocelot, as well as foxes, a wallaby, and an assortment of exotic birds and reptiles, including a Burmese Python.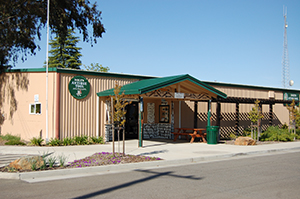 Bolt Tool MuseumEnd of Safford Street between Oak & Pine Streets, (530) 538-2528, (530) 533-3096
Hours: Mon. – Sat. 10 – 3:45; Sun. 11:45 – 3:45After we leave the Sanctuary we'll head for the Bolt Tool Museum. Bud Bolt started collecting tools in 1957 as a way to get shop students to be more attentive. His idea was to show the students the difference between the unweildly old tools their grandfathers might have used and the modern ones. The boys did start paying more attention, and it also sparked, in Bud, a fascination for old tools that continues today. All of the tools on display were manufactured during or prior to WWII.
They include adjustable wrenches that measure from a small pair about four inches long to a giant 12-foot industrial wrench, and a hand-forged set of sockets made by a blacksmith and discovered by Bud in a junk store in Kalispell, Montana. You'll find it fascinating to listen to the stories that make the tools almost come alive!
Lunch
When we leave the Bolt Tool Museum we'll be heading for Taco Bell Taco Bell for Kids Meals at 2590 Feather River Blvd. (530) 533-1066.
Afternoon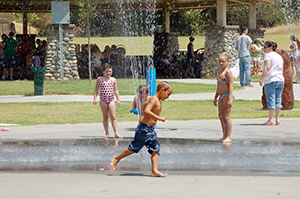 We have several choices of things to do this afternoon. What we chose to do may depend upon the weather our interests if we feel energetic or a bit lazy. Cool Off with a Swim When the valley heat becomes too much to bear, lots of folks like to dive into the water to cool off. Four area facilities offer that opportunity.
Bedrock Park
A 3.75-acre area along the Feather River, offers swimming in the river as well as river views.
NelsonPool
Open to the public from June to September and offers recreational swim time daily from 1-4 p.m. with evening hours on Tuesday and Thursday from 6:30-8:30 p.m. Serious lap swimmers' hours at the pool are Monday, Wednesday, and Friday from 4-6 p.m.
Palermo Pool
Open from June to September with recreational swimming hours on Monday through Saturday from 1-4 p.m., and evening hours from 6:30-8:30.
Y.M.C.A. Pool
The heated has both classes and open swims. The pool serves a number of populations, from infants through therapy groups.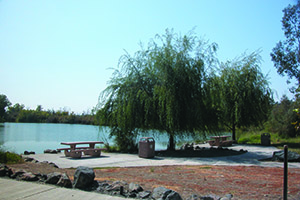 If you'd just like to kick back and relax, why not find a nice shady park. Here are three to chose from. Maybe even have a picnick for dinner.
Mitchell Park
Pomona & Fifth Avenue
Twenty-four acre Mitchell Park features several youth baseball fields, a baseball stadium, picnic facilities, and Playtown USA, a theme playground—something for almost everyone.
Nelson Park
Sixth Street & Nelson
Three lighted fields serve the Feather River Park & Rec. District's softball program, and four youth fields are used by the Thermalito Little League. Playground equipment and picnic tables are also provided.
Riverbend Park
– West end of Montgomery Street
Several open air pavilions are found throughout the park and are available for picnicking or nature viewing. The water play area is very popular with kids. Later additions to the park will include an Aquatic Park with an Olympic-sized swimming pool, waterslides, an exercise pool and a diving pool.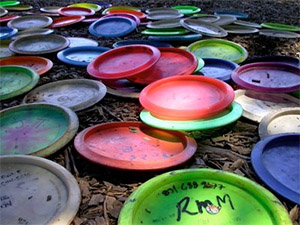 For those of you needing a more energetic afternoon experience, how about a battle at the Combat Zone or a round of Disc Golf at Riverbend Park.
Riverbend Park Disc Golf Course
18 Holes; West end of Montgomery St. at Hwy. 70, 530-533-2011
A great family pastime, because it's free and all ages can play, is a round of disc golf at the Riverbend Disc Golf Course. The course was designed by Ed Hedrick, the father of disc golf, and was a project of Sunrise Rotary Club. Discs can be purchased at Feather river Recreation & Parks district 1875 Feather river Blvd. Oroville, CA.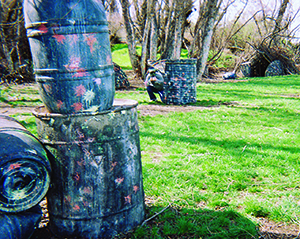 Combat Zone PaintBall Park
4514 Pacific Heights Road, (530) 534-9956
Hours: Fri. 9 – 8; Sat. & Sun. 10 – 4, Weekdays by Appt.
Paint Ball is one of the nation's fastest growing sports, and here you'll find a series of fields within a master field for scenario games, as well as for "Speedball" and "Capture the Flag."
A final afternoon choice that might allow for both a relaxing afternoon and some cooling off water activity is the North Forebay and the Aquatic Center. Here you can picnic, swim, boat and RV camp all in one place.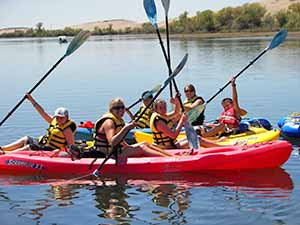 North Forebay
West of Hwy. 70, north of Oroville (Garden Drive Exit)
The Forebay Aquatic Center
(530) 538-4332, www.featherriverrowingclub.com
Tue. – Thur. 10 – 5; Fri. – Sun. 10 – 6, Closed Mon.
Reserved for non-motorized use only, the North Forebay is a sailor's dream come true. Ranked as the best sailing and windsurfing north of the Bay Area, these waters and winds are delightful. The spot is also popular with those who prefer to canoe, swim, or just relax in the sun. A 200-yard sandy swimming beach has men's and women's dressing rooms, drinking water, and a special feature — shade trees that keep the sun off of your picnic table and you. A 15-space RV campsite and restrooms are also found at the North Forebay. In addition to the North Forebay, there is a 7,000 sq. ft. aquatic center on site. The center provides (both single and double), pedal boats, hydro bikes, and canoes.
Evening
If you haven't already decided on a picnic visit Gold City Grill at 935 Oro Dam blvd., Oroville, CA (530) 533-9332. they have both children and senior menus and prices range from $3.50 to $7.00 per meal.