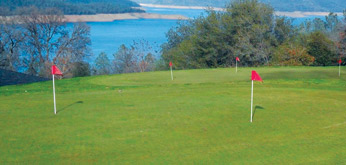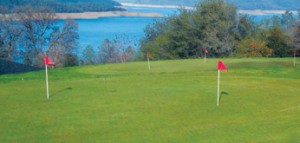 If golfing is your sport, Oroville offers three courses with widely differing terrains. The Lake Oroville Golf and Event Center course near Lake Oroville is tight, challenging, and offers a rolling, parklike setting with lovely foothill views. It also features a netted driving range, a pro shop and practice putting greens.
The Table Mountain course has hosted the Women's Pro Am Tour, but don't let that scare you away—amateurs play there year round. It features water hazards, sand traps, and a driving range and putting green.
South of Oroville, off Hwy. 70, Dingerville USA is an Executive golf course. Their shortest hole is 90 yards, their longest 192. Pull-cart and club rentals are available. This course opened in 1993.
A great family pastime, because it's free and all ages can play, is a round of disc golf at the Riverbend Disc Golf Course. The course was designed by Ed Hedrick, the father of disc golf, and was a project of Sunrise Rotary Club. Discs can be purchased at the Feather River Recreation & Park District office at 1875 Feather River Blvd.
Lake Oroville Golf and Event Center
9 Holes, Par 66;
5131 Royal Oaks Drive
(530) 589-0777
Table Mountain Golf
18 Holes, Par 72;
Oro Dam Blvd. W., 2 miles W. Hwy 70
(530 533-3922
Dingerville USA
9 Holes, Par 27;
5813 Pacific Heights Rd.
(530) 533-9343
Riverbend Park Disc Golf Course
18 Holes;
West end of Montgomery St. at Hwy. 70
530-533-2011