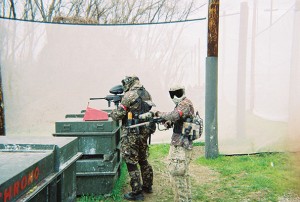 Dedicated to the appreciation and preservation of last century's military history and memorabilia, the owners have been collecting for over 30 years.
This collection includes everything from a Browning M1917 Machine Gun (first introduced in 1917), an Antitank Gun (manufactured by Laudi during WWII), a rocket launcher ("Bazooka" of WWII), an English Civil Defense Air Raid Siren used to help Londoners reach the safety of bomb shelters, a Dutch Army Motorcycle (1955), to a Sidewinder Missile AIM-9E and an M60 Machine Gun developed for use in Viet Nam.
There are a number of military wagons plus an outstanding collection of WWII posters which were used to boost morale, sell war bonds, and fuel nationalism in the 1940's.
Since you'll need time to explore the many items on display, you may want to consider staying in the tree-shaded Campground here that is nestled on the banks of the Feather River. Fishing, tubing & kayaking trips originate here.
PaintBall is one of the nation's fastest growing sports, and here you'll find a series of fields within a master field for scenario games, as well as for "Speedball" and "Capture the Flag."
Military Museum, Campground, & PaintBall at Surplus City
4514 Pacific Heights Rd.
(530) 534-9956