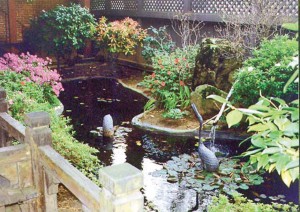 Three of Oroville's gardens are featured in Garden Getaways-Northern California (1989, Tioga Publishing Co.), which is quite a compliment for the city. "Closed off to the world outside its gates, the garden is a mystery from outside but a place of shelter and tranquility within," is how the author describes the Chinese Temple Garden after listing dawn redwood, ginkgo, wisteria, bamboo, waterlilies, and other specimens to be enjoyed here.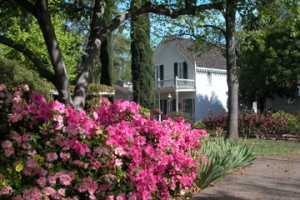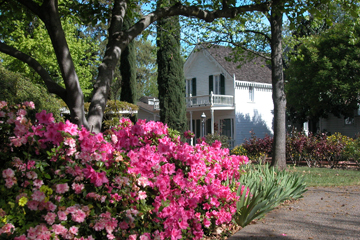 After discussing species in Sank Park, "…a rose garden…a trellised gazebo, and wide lawns with beautiful specimen trees… the garden today is ideal for strolling, sitting, and for more formal gatherings," the author wrote.
One of the historic garden spots in Oroville is the former California Display Garden at Western Pacific Brewing & Dining. The garden was originally used to "greet and introduce" rail travelers to the huge variety of California fruit trees. After traveling through the snow in the Sierras, we bet they were impressed.to see avocados, palms, a fig, olive, persimmon, and pineapple guava. Little remains of the garden now, but you can use your imagination and understand the thrill that rail travelers once experienced.
And you just haven't seen Spring until you view the 165 varieties of azaleas in April bloom at Minasian's.
Chinese Temple Garden
1500 Broderick St.
Lott Garden in Sank Park
1067 Montgomery St.
Minasian Azalea Gardens
1681 Bird St.
Western Pacific's Calif. Display Garden
2191 High at Oliver