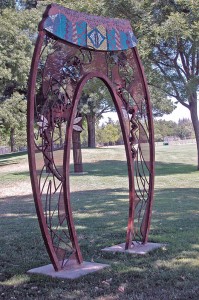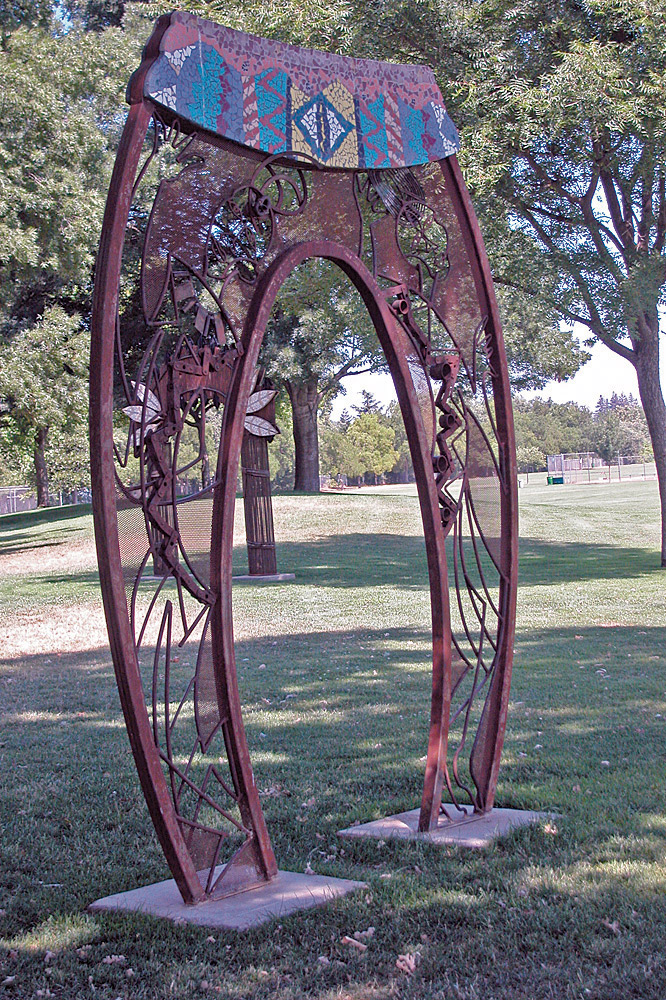 If you like wide open spaces to enjoy your volleyball or tennis, we suggest Community Park. Chico's largest outdoor sports park, its 30 acres provide courts along with ballfields, a large playground, barbecue grills, picnic tables, and lots of space to just sit and reflect or to read a good book. And this is the site of the annual Chico Kite Day held in March.
Dedicated in March, 2004, the park's Ancestor Gates, commissioned by the Chico Redevelopment Agency and the Chico Area Recreation and Park District, created by artist Jenny Hale with assistance from Amaera Bay Laurel and Robin Indar and fabricated by Stan McEtchin and David Barta are a must-see. They can be found adjacent to the play area and Chapman Elementary School. The mosaics were created in community workshops in the park. The gates feature four main ethnic groups: Mexican-American, Asian-American, Native American, and African-American.
Hooker Oak Recreation Area also has ballfields, playgrounds, and picnic areas, and it offers a little history, too. Named after an English botanist, the Hooker Oak was one of the world's largest oaks until it died of old age in 1978. The huge stump is preserved and gives you an idea of what a whopper it was.
Completed in 1999, Chico Skate Park's 10,000 square feet of fun is open from 8am to sunset, and is quite a hit with skateboarders and inline skaters. They can enjoy a pyramid, rail box, two 3-foot-wide steps, lots of curbing and steel coping. Park users must wear appropriate gear (helmets, pads, etc.). There's even a snack bar if all that skating makes you hungry.
Chico's newest park, DeGarmo Park, is located next to Shasta School and being 36 acres in area, the park will serve many venues, including soccer and softball. It also has a dog park. Future plans call for an aquatics center to be added.
Chico Area Rec. & Park District
545 Vallombrosa
(530) 895-4711

Community (20th Street) Park
Access at east end of E. 16th St. near
Chapman School or on Whitman
Ave., a block off E. 20th St.

Hooker Oak Recreation Area
Corner of Manzanita and Hooker
Oak Avenues

Chico Skate Park
359 Humboldt Ave. at Flume
Info: (530) 895-4972

DeGarmo Park
Esplanade & Eaton Road