Awarded the most popular toy of the 20th Century, the Yo-Yo continues to be very popular with all ages. Visit the largest display of Yo-Yo memorabilia in the nation. Ninety years of Yo-Yo artifacts are on display here, and you'll most likely feel like you're a kid again just experiencing this collection.
The display includes photos, competition awards, and Yo-Yo's from the 1920's through today, as well as the world's largest Yo-Yo at 50 inches in height and weighing 256 pounds.
Every year, America's best players wind up in Chico as the museum hosts the National Yo-Yo Contest on the first Saturday of October. Players earn their way to the finals by qualifying in nationwide contests held throughout the country.
This exhibit is a fascinating look at the childhood we all have in common.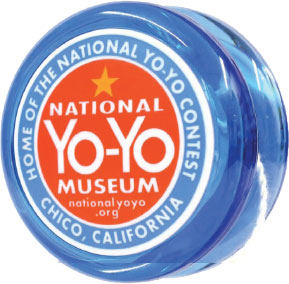 National Yo-Yo Museum
Inside Bird in Hand
320 Broadway
(530) 893-0545
Open 7 Days a Week
Free Admission
www.nationalyoyo.org