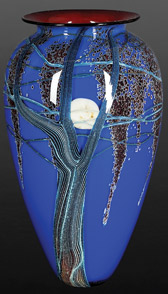 Internationally known, Orient & Flume creates intricate, three-dimensional designs encased in clear glass for which the studio is now famous. Their works are in the permanent collections of the Chrysler Museum, Corning Glass Museum, the Metropolitan, and the Smithsonian. The showroom is open Mon.-Sat., 10-5 p.m.
Richard Satava opened his studio in 1977 using ancient techniques to create beautiful art glass by combining technical skill and delicate artistry. Vivid colors and unique nature themes are his trade-mark. Passion is visible in his creations.
Satava's interesting studio is open Tuesday – Saturday, 9-4. Glass blowing demonstrations are sometimes available, please call ahead.
The studio also carries a large variety of works by other artists from across the nation. This provides works for every taste and budget.
Orient & Flume Art Glass
2161 Park Ave.
(530) 893-0373
Read More
Satava Art Glass Studio
819 Wall St.
(530) 345-7985
Read More