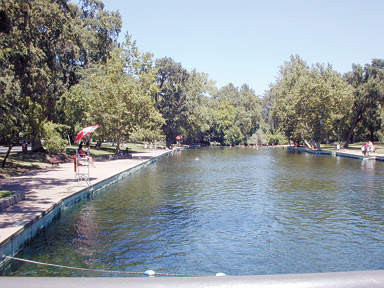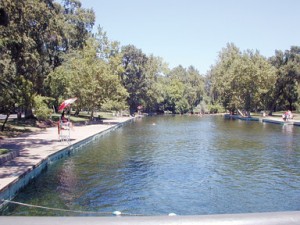 Bidwell Park
Donated to the city by Annie Bidwell in 1905 were the original 2,238 acres, and in 1995 the city purchased and added an additional 1,380 acres, making it the third largest urban park in our nation. As per Bidwell's designation, no alcohol, or hunting is allowed.
These over 3,600 acres offer picnicking, swimming, equestrian and bicycling trails, golf, archery, pistol ranges, playgrounds, baseball/softball fields, and organized recreational activities year round. It was seen nationally in 1937 when the original Adventures of Robin Hood was filmed among the towering oaks and sycamores. The park has been designated as an official California Watchable Wildlife site. California Watchable Wildlife.
Because of its large size, the park is divided into two sections: Upper Bidwell Park is a wilderness section along both sides of Big Chico Creek Canyon. It contains more than 35 miles of hiking trails, 25 of which are open to equestrians and bikers. The canyon of Big Chico Creek has many beautiful swimming holes. The two major trails are North Rim and South Rim.
North Rim Trail (for hiking, biking, and horseback riding) starts at Wildwood Avenue, close to the entrance to Upper Park. Beautiful vistas are the reward for this sometimes steep trail. South Rim Trail is used less and is pretty rugged. It begins where Centennial Avenue deadends into Chico Canyon Road and runs above Bidwell Golf Course and into the newly acquired south side of the canyon.
Upper Bidwell Park also contains Hooker Oak Recreation Area (this part of Upper Park was originally called Middle Park), three softball diamonds, playgrounds, and picnic areas. You might view some kite flyers here. To get to Hooker Oak, take Vallombrosa Avenue, turn left on Manzanita Avenue.
You'll spot it on the right. Five-Mile Dam Recreation Area includes a large natural swimming hole plus good picnic spots with tables and grills. To find it, take Vallombrosa to the end, turn right on Manzanita, and then left on Centennial—the recreation area is on the left. The Horseshoe Lake area is a great area for fishing and is the site of the annual Fishing Derby.
Lower Bidwell Park is about a fourmile long area following Big Chico Creek from downtown to Manzanita Avenue with footpaths and bicycle paths that run through shady oak groves.
The One-Mile Dam Recreation Area includes Sycamore Pool, a softball field, horseshoe pits, and picnic areas with grills. Very near downtown, it can be entered from Fourth or Fifth Streets. Just next to the One- Mile playing field is Caper Acres, an imaginative fairy-tale themed playground featuring just about everything to keep small children busy. (My favorite is the castle, but I think the treehouse thingy is more popular with the youngsters.)
Cedar Grove, entrance off East Eighth Avenue, is lovely year-round with its gorgeous cedar trees. Chico Creek Nature Center is also located in Lower Park, and we think deserving of its own listing in "101 Things to Do. "Please see item 71 to learn about it.
Detailed park maps are available for the asking at the Chico Visitor Center, corner of Main and 5th Streets.
Bidwell Park
(530) 896-7800
4th Street and Cypress Avenue
www.chico.ca.us (click Park Dept.)