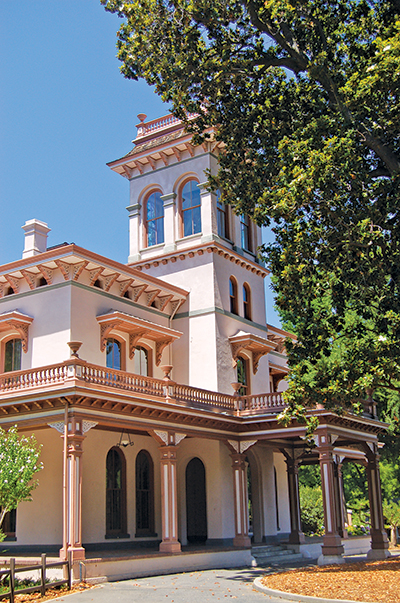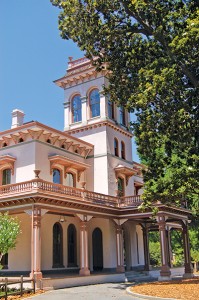 Born in 1819, John Bidwell led the first overland expedition to California when he was 22. When he struck gold on the Feather River near Oroville,he bought 26,000 acres beside Chico Creek, and in 1860 founded Chico.
In 1868, after having served two years as a Washington congressman, he and Annie Kennedy were married with President Johnson attending.
Soon the Bidwells moved to Chico and worked in many causes including Indian education and women's suffrage. Mr. Bidwell was also an amateur horticulturist, and planted many varieties of trees and shrubs on his vast land holdings and around the community.
The Bidwells entertained prominent Americans, including Susan B. Anthony and John Muir, until Bidwell died in 1900 and Annie in 1918.
In 1887 Bidwell donated the land for the state teacher's college that later became CSUC; and Bidwell Park, about a mile east of the mansion, was donated to the city by Annie in 1905.
The three-story mansion is furnished with Victorian pieces, many having belonged to the Bidwells. The carriage house stores four of Bidwell's carriages.
The mansion is home to many annual events including a Christmas Open House each December. Next to the mansion is a visitor center offering displays, a gift shop, and a 25-minute movie of this generous, progressive couple.
Bidwell Mansion State Historic Park
525 Esplanade • 530-895-6144
Sat.-Sun. 11-4, Mon. 12-4