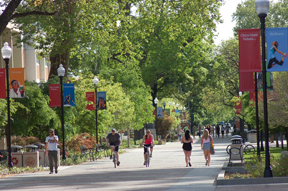 Along with education, activities, and live performances, this campus (located adjacent to Chico's downtown) is also known for its beautiful grounds and its architecture. Laxson Auditorium, along with Kendall Hall and Trinity Hall with its bell tower, was built of red brick in the early 1930's in a lovely Romanesque style similar to that of Mediterranean cultures. True beauties.
The new Bell Memorial Union is home to a huge bookstore (including clothing and gift items in addition to the books,) the Union Express, and the Associated Students offices, and 12 conference and assembly rooms, plus auditorium seating for 1,000 people.
Meriam Library, named after Ted Meriam, who was a former university trustee and Chico mayor, is the largest library north of Sacramento and serves as a resource for all of Northern California.
Thanks to General John Bidwell, who was an amateur horticulturist, the grounds of the campus contain hundreds of varieties of trees and plants that he introduced to the area. You'll note, as you walk through the campus, many huge trees; some of these date back to when Bidwell planted them. The plantings, along with Big Chico Creek running through the middle of the campus, make it a nature lover's dream. Spring is especially gorgeous with the azaleas in bloom and the creek running strong. A tour of the grounds and buildings is well worth taking since it is informative, entertaining, and just plain beautiful.
California State University,
Chico Office of Admissions
Tours/Pre-Admission Information
West 2nd & Hazel St.
(800) 542-4426 (530) 898-4428
www.csuchico.edu
Bookstore: 898-5222
Box Office: 898-6333
Chico Symphony: 898-4607
Athletic Events: 898-4658
Conference Services: 898-6414
Continuing Education: 898-6105
Recreational Sports: 898-5170