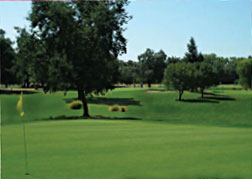 Bidwell Park Golf Course is known for having one of Northern California's finest pro shops. It also has hitting cages and a lessons-only driving range. This popular course is less crowded in the summer when college students are gone.
Sunset Hills is made up of par 3's, and is an ideal course for beginners or senior citizens. If the spirit moves you to golf, you can go here on a whim since reservations are not required.
Skyway Golf Park is lighted, which helps if you're practicing driving at night. There is also a practice putting green, a pro shop, and six practice holes.

Tuscan Ridge Golf Club opened in June 2001. You'll have spectacular views of the Sutter Buttes when golfing here. Their Bistro offers wine and beer. A grass practice range and lessons are also available.
Bidwell Park Golf Course
off Wildwood Ave. near East Ave.
530-891-8417 • Holes: 18,
Par: 71

Sunset Hills Golf Course
Esplanade and Garner Lane
530-342-4600 • Holes: 9, Par: 27

Skyway Golf Park
1 Longest Drive, 530-899-8108
Driving Range, 6 target greens

Tuscan Ridge Golf Club
On the Skyway 7 miles from Chico
530-624-7006 • Holes: 18, Par: 71
www.TuscanRidgeClub.com