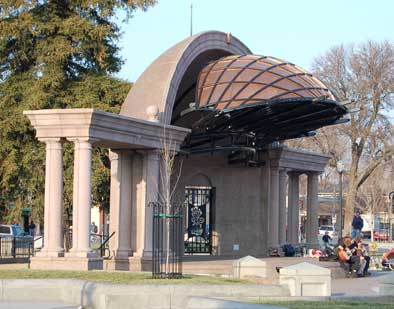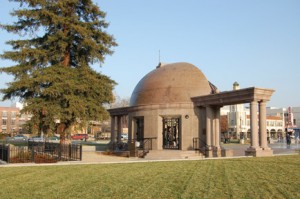 Opened in 2005 along with the restoration and opening of the Diamond Hotel, Diamond Alley is entered through gorgeous mosaic-pillared arches at either 3rd or 4th Streets, and a walk here features many of the Chico Open Board creations.
One of our favorite places to be for lunch, Downtown City Plaza was designated as a park site in 1872. The area here now serves as stage for many events—including free music concerts on Friday evenings May through September.
To get a schedule of the concerts, check the downtown merchants' windows, or ask at the Visitor & Information Center (Main & 5th St.).
A 2004-2005 centennial project of the Chico Rotary club, Chico Rotary Plaza is in front of the Boys & Girls Club. It features a neat sculpture, and be sure to check out the arty cubes!
Diamond Alley
From 3rd-4th Sts. between Broadway & Salem
Downtown City Plaza
4th & 5th Sts. at Main & Broadway
Chico Rotary Plaza
On Wall Street between 6th & 7th