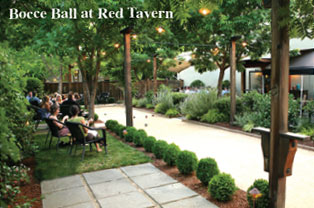 Bowling is one sport that can be done regardless of the weather outside, and AMF Orchard Lanes offers 38 lanes for your bowling pleasure. The facility also features an arcade, snack bar, and profamily shop. So, let 'em roll and best wishes for a "turkey!"
Relax with a cocktail on the patio and play a round of Bocce Ball on Red Tavern's new court. The ancient Italian game of Bocce is fun and easy to learn whether you're 3 or 103!
From the very popular, six-day Silver Dollar Fair held each May, to antique shows, home and garden shows, industrial barbecues, business expos, and more, there's almost always something going on at the Silver Dollar Fairgrounds.
The Speedway features a wide variety of racing action from March through September, highlighted by the Mini Gold Cup each March and the Gold Cup Race of Champions in September.
The National Bullriding Championship Finals, held in September, draw 5,000 fans each day, and kids enjoy competing in the Mutton Bustin' & Steer Riding events. Any month of the year, it's worth a phone call to see what's happening at this very happening place.
AMF Orchard Lanes
2397 Esplanade
(530) 895-3257
Bocce Ball Court at Red Tavern
1250 Esplanade
(530) 894-3463
Read More
Silver Dollar Fairgrounds & Speedway
2337 Fair Street
(530) 350-7275
Track: 530-891-6535
Read More