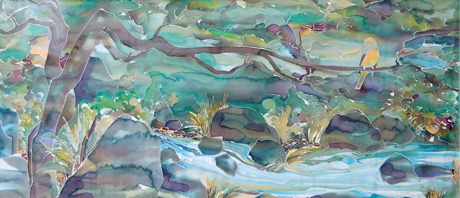 We could write a book about the artistic talent and galleries in this town, honored repeatedly as one of "100 Best Small Art Towns in America."
Chico Visual Arts Alliance (ChiVAA) is a 501c3 umbrella organization linking art groups and individual artists and enabling them to have a united voice, presence, and visibility in Chico. For more information, please call (530) 318-2105 or read More here.
ChiVAA also holds its annual Art at the Matador (1934 The Esplanade) each May featuring free admission & parking (corner of 10th Ave. and The Esplanade), showcasing 75 local artists, dancers, fashion show, music, and a children's art area, among other activities and entertainment.
The Museum of Northern California Art (monca) is in the process of renovating the 1927 Chico Veterans Memorial Hall, 900 Esplanade, to create a home for its collection. Thanks to collector Reed Applegate, who donated his entire collection, the museum already has nearly 400 works by regional artists. To learn more about monca or to donate to the renovation funds, go to www.monca.org
AicoraGems "Jewelry Box" Gallery (more info) is Chico's newest public mural, a giant wooden jewelry box by Scott Teeple. A visit inside mimics an Alice in Wonderland type experience . . . passing through the door of the jewelry box to the inside where the creative brilliance will surprise you. AicoraGems features national award winning designer Geralyn Sheridan's eco-friendly collections as well as handcrafted fine jewelry by several other talented local metalsmiths, Paul Crosbie's art glass and periodic visiting artists. Definitely a must see. Owner Geralyn Sheridan a GIA Graduate Gemologist and National Award winning jewelry designer handcrafts a full line of unique designs and one of a kind ecofriendly fine jewelry in her Chico studio.
A gallery and gift store to be savored is the Vagabond Rose. Some of the area's finest painters, photographers, woodworkers, and potters exhibit their work here. Many have received national and international acclaim, including Janet Turner, Salvatore Casa, and Kenneth Parker. Fine art is displayed amidst quality crafts and collectibles.
Art etc. etc. etc. (more info)has been in town, centrally located between Main and Broadway on 3rd, for over 40 years and has had artist-owners for the past few. Especially unique about the shop is that the entire staff are artists (paper, oil, watercolor). The shop is popular with local artists because all of the framing work is done in the store.
At the Sally Dimas Art Gallery & Studio (more info), the owner, an artist herself, also carries works by other local and regional painters, potters, and jewelers.Every wall is adorned with works by different artists. In addition to her ongoing, large variety of art, this gallery is now featuring Western Art.K. W. Moore, Sr., who lived for 18 years in Santa Fe, New Mexico and is now residing back in Paradise, is exhibiting a large collection of his work at the gallery.
Nestled on the corner of Fourth and Broadway, downtown art gallery and custom frame shop, Chico Paper Company, (more info) is best known for supporting local artists and the art community. This family-owned shop, run by a dynamic husband and wife duo, has been catering to art enthusiasts throughout the north state for more than 45 years.
Housed within the 2,500 square-foot gallery are the works from over 25 local artists, along with regional, national, and international talent.From ceramics to jewelry, limited-edition prints, photographs, sculpture, woodworks and paintings, you can find it all here.
The large on-site frame shop also specializes in full-service conservation framing to assure the best long-term care for your art.The framers together garner more than 45 years of experience.The shop also has an amazing variety of exceptional frames to choose from to help personalize your framing experience.The gallery's talented and friendly staff is able to offer guests a dynamic experience, whether it's through buying art, custom framing a project, or sharing the talents of the gallery's represented artists.
Founded in 1967​ in partnership between Al and Mabel Gaumer and their son John and his wife Terry, Gaumer's Jewelry (more info) has continued to grow with the addition of a third generation of jewelers and rock-hounds through Bill Gaumer.
Gaumer's carries a great selection of fine gold and silver jewelry, original hand-crafted jewelry, semiprecious and precious stones, lapidary equipment and jewelry making supplies. The gift ware portion of the business offers books, coasters, vases, unique decorative items and beautiful hand-crafted jewelry boxes.
The Gaumer family interest in gems and minerals has been actively pursued for four generations as John O. Gaumer was a gold miner in Northern California for 25 years. His son Al continued the tradition with formal education in the field of mining engineering before returning to gold mining with his father and a lifelong pursuit of prospecting and rockhounding throughout the western United States.
The family passion for rocks turned a hobby into a full time business when John and Terry decided to open a store utilizing the family​'s extensive rock collection and John's jewelry making skills.
​In 1997 the business added an 800 square foot mineral and mining museum and additional retail and manufacturing space​, and​ ​i​n 1999, Bill finished his course work with the Gemological Institute of America and received the prestigious Graduate Gemologist diploma.
Family-owned Needham Studios (more info) has been creating award-winning, custom-designed stained glass in the heart of downtown Chico for over 45 years.The studio's latest honor has been to win the 2014 National Competition for the Sutter/Roseville Medical Center Chapel. Stop in to see a multitude of other designs the studio has created.
The Janet Turner Print Collection of over 3,000 fine art prints spanning 40 countries, six centuries, and a thousand different artists (including Rembrandt, Renoir, Goya, Miro, Dali, Tamayo and Hockney) hopes to move to a permanent location on or near the CSUC campus sometime in the future.Call 530-899-1205 or 530-343-1110 for information on this outstanding collection.
Ninth Avenue Gallery & Studio (more info) open​ed​ its doors in March 2015.​They show the beautiful jewelry work of Mike and Susi Gillum and paintings by Valerie Payne, Lenn Goldmann, Candy Matthews and owner, Cynthia Sexton.There will be several special exhibitions throughout the year as well, showcasing the work of other local artists.​ ​In addition to the Gallery, Valerie Payne and Cynthia Sexton will be conducting watercolor classes.A schedule of Gallery Exhibitions and classes can be found on the website ninthavenuegallery.com.
The Art House (more info) is a tiny, urban sculpture garden and gallery in the heart of Chico.Artists Jana and Dave Lawton create one-of-a-kind contemporary sculptures in a variety of mediums:clay, concrete, stone, bronze, aluminum, and steel–and put them out in the garden to enjoy and to inspire visitors. Art can be the focal point that gives a home or garden space real visual impact and interest.Located at 325 Nord Avenue in Chico, the garden is open from 1 to 5 p.m. every Sunday afternoon or by appointment (530) 894-1843.A visit to their website (chicoarthouse.com) gives a sampling of what one might encounter on a visit to The Art House.
Artisans Galleria is a unique gift shop full of wonderful locally made items; jewelry, pottery, wood products, cards, gourds and so much more. The gift shop has the largest selection of jewelry artisans in Chico. We are expanding our bead shop and will be offering more classes in different media such as; beading, soap making, pottery and polymer clay projects. We relocated from north Chico to more to a more visible location on Mangrove, right across from PepBoys.
Chico All Fired Up-Created 4ACause (more info) invites you to "Come Clay with Us!"
Don't miss the local art: ceramic, 2-dimentional, 3-dimentional and fiber. The vision behind the center is to create a gathering place for ceramic artists and students to connect with each other to share ideas and inspiration; create a learning environment to encourage growth; provide access to supplies and materials at competitive prices and have a studio where the community can see artists at work and purchase local art.
There is an art endeavor centrally located in downtown Chico, upstairs at 336 Broadway.Chico Art School & Gallery (more info) focuses on painting and drawing instruction with an emphasis on fun. Artist and owner, Janet Lombardi Blixt, teaches children ages 7+ and adults. Oils, watercolor, acrylic and pastel mediums are taught in a small class setting offering individual instruction. The school nurtures the creative spirit in all of us, no matter what skill level. Home school, after school, private and evening classes are offered. Weekly classes run year long and the popular summer camps are held annually.
Visit the gallery to view Janet's latest icon of Chico landmarks and rotating guest artist's work. Janet was voted 1st place Best Local Artist for 2008 and 2009 in the Chico News & Review competition. Gallery hours are during class times and by appointment.
Chico is home to more and more Public Sculpture, and one of the most interesting pieces is the outdoor teleidoscope found at Park Avenue and 13th. It's fun to use it, and many people do.I've heard adults say that it makes them feel like a kid again.
The new Luminary Art Benches found in downtown Chico are the result of a project to create artistic tributes to world-renowned persons who either lived in Chico at one time and went on to become famous in his or her field, or who contributed to the character of Chico in a significant way. Chico is the theme of all the Pedestal Art Seats. A brochure featuring a walking map and detailed description of the benches and pedestal seats is available at the Chico Chamber of Commerce and at many of the art galleries.
Benches celebrating the following Chico luminaries are installed in downtown Chico: Architect Julia Morgan is honored by artist Jenna Mae Hepworth; the achievements of Astronomer Carolyn Spellman-Shoemaker are celebrated with a bench by artist David Barta; Painter Jackson Pollock is depicted in mosaic tile by artist Robin Indar; Writer Raymond Carver, who lived in Chico in the late 1950's, is honored by artist Dylan Tellesen; Actor Erroll Flynn and the 1938 filming of "The Adventures of Robin Hood" in in Bidwell Park are recognized by mosaic artist Christen Derr; in recognition of the contribution of Chinese workers to Chico's history and dedicated to the memory of Andrea Spressards Christen Derr designed a mosaic tile bench; John Muir is remembered with a concrete and bronze bench by Michael Ginnattasio; Franz Cilensek (Santa Claus to generations of locals) is honored by a mosaic tile bench by Pat Koszis and Kay Wooldridge; Sir Joseph Hooker's bench is a concrete and bronze creation by Juan Cole and Jeff Lerche; and Susan B. Anthony is remembered by a concrete and metal bench created by Jean Summerville.
Julia Morgan was California's first female architect who designed well over 700 buildings including Hearst Castle and the Albert E. Warrens Reception Center (formerly the President's House) at CSU, Chico.
Astronomer Carolyn Spellman-Shoemaker, who holds the world record for comet discoveries, grew up in Chico and graduated from Chico State College with her Bachelor of Arts and Master of Arts in 1949 and 1950, respectively.
A bench not to be missed is one done by mosaic artist Christen Derr in remembrance of Chinese workers' contributions to Chico's early history. It is dedicated to Andrea Spessard (1980-2004).