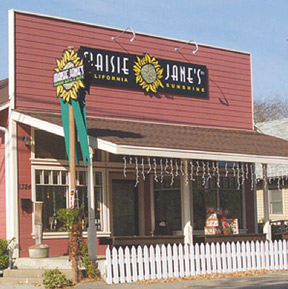 As one of the fourth generation of almond growers, Maisie Jane turned a high school FFA project into a nationwide business, and in 1999, was the first woman to win the N. American Collegiate Entrepreneur award.
A visit to her shop gives one a good sense of the history of the almond business. You'll see her great grandfather's almond draper, an old maul (used to knock the nuts from the trees), a photo series of then/now, and even an armoire taken from Annie Bidwell's garage that is now used for displaying almond products.
At Maisie Jane's you'll find a large selection of locally made food products —olive oils, wine, rice, honey, mustards, cheeses, spices, and all the local nuts you could possibly think of. Nibble at their tasting bar and view their beautifully made gift baskets, which you can take with you or have shipped. They even have delicious pies— almond butter, pecan ice cream pie, mint julep ice cream pie, java crunch ice cream pie, chocolate cheesecake—and during the holiday season, try their peppermint fudge ice cream pie. All are sold whole or by the slice.
Providing CSUC students with hands-on experience in both crop and livestock management, the University Farm (1,000 acres) hopes to offer tours in the future providing visitors with a good over-view of Sacramento Valley agriculture. The farm's Meat Lab prepares beef, lamb, and pork is known for its large assortment of recipes, sausages and jerky.
Mooney Farms have been offering the world's most complete line of sun dried tomato products for generations. Family-owned and operated, they've been growing, drying and processing these products, which are all Certified as Kosher. Check their website to find sun dried tomato sauce, pesto, risotto and many more products, recipes, and their unique gift baskets.
We used to go to Grandpa's farm in southern Indiana and pick our sweet corn for Grandma's supper. Nothing ever tasted better—partly because it was fresh from the field and partly because we'd picked it ourselves. We've found a place that's a close second to that.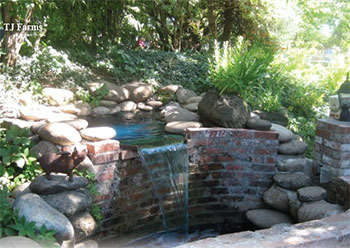 TJ Farms a 15-acre family owned and operated farm is only three miles from the bustling heart of downtown Chico, but it feels much farther than that. It's surrounded by idyllic green orchards on a country lane, and the grounds are immaculate — you'll find waterfalls, fountains, ivy-covered trellises, a pristine gazebo surrounded by flowers and gently sloping lawns perfect for mingling. Dignified old walnut trees shade the beautiful Southern colonial mansion on the farm. They have an annual asparagus festival, and now hold many weddings on the property.
They allow you to pick your own or to purchase what they've picked. Either way, the veggies are always fresh and delicious, and there's a good feeling about getting them at the farm.
At Jack-O-Lantern time, you can wander through TJ Farms' Pumpkin Patch to select just the right "head." You can also view the quail pen or slip into the sales room for a free sample of their Kiwi concoctions.
Maisie Jane's Unique Gifts & Nuts
1324 Dayton Road
(530) 809-2436
Read More

Blue Diamond Nut & Gift Shop
703 Miller Ave.
(530) 895-1853

California State University Farm
South on Park Ave. toward Durham,
Turn right on Hegan
Currently not open for Tours

Mooney Farms
1220 Fortress St.
(530) 899-2661
Read More

TJ Farms
3600 Chico Avenue
(530) 343-2294
Visit them