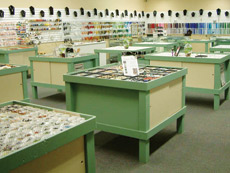 There are lots of ways to be creative, even if you think you aren't! Knitting, quilting, creating ceramics, and
beading are choices in which many people find that they do have a creative bone or two in their body.
There are a multitude of ways to be creative at Chico All Fired Up. Classes include all materials, tools, glazes and firing. Very popular currently are the kids' pottery painting, which are easy and fun, and no appointment is needed for those, unless you have a group of five or more. There is a wide range of bisque ware found here.
At Honey Run Quilters, you'll find many fabrics as well as books and notions. And they even offer classes for beginners through advanced, so there's no excuse not to create a quilt. This shop was designated as one of the top ten quilt shops in North America and was featured in the Fall '09 issue of Quilt Sampler magazine, published by Better Homes and Gardens.
The Rabbit Hole opened in 2004, and this mother and daughter team chose the name for their business because mom always called her children her rabbits. They specialize in beginning quilters, and they are proud of their wide variety of colorful fabrics.
For a unique experience, stop in String Bead and view thousands of beads of every size, shape, and color. You'll see some collector's items. Note especially the handmade lampworked glass beads.
You'll find glass, wood, bone, metalized, horn, precious and semi-precious stones, and seed beads from which to choose.
They have a fully operational jewelry fabrication and glass bead-making shop.Classes are offered, and the best thing is that you can spend as little as 50 cents or as much as $50 while creating earrings, necklaces, anklets, bracelets, and barrettes. So, why not bead it up!
Chico All Fired Up- Created 4ACause
830 Broadway
(530) 894-5227
Read More

Honey Run Quilters
2418 Cohasset
(530) 342-5464
Read More

The Rabbit Hole Quilting & Fabrics
2607 Esplanade
(530) 345-5015

String Bead
Almond Orchard Plaza on Pillsbury Road
(530) 894-BEAD
Read More