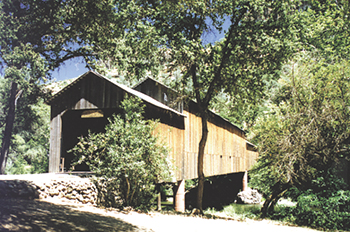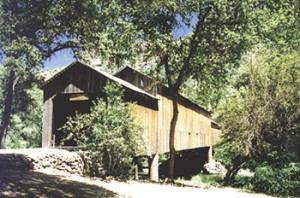 Built in 1894, the Honey Run Covered Bridge is the only three-level covered bridge in the nation, and it's one of the few covered bridges left in California. All visitors should see it if they're in the area, and it seems like they must because all the picnic tables were taken when we were there. It's also a great spot to go wading or swimming in the creek. Last one in's a hot tamale!
A left turn at the bridge puts you on Centerville Road and on your way to some other gems. You'll discover the charming 1894 Centerville School and the adjoining museum. Colman Museum houses local Indian artifacts, including a beautiful basket collection, late 1800's mining equipment, including gold scales and ledgers from the many general stores, tools, and relics of the Civil War era. There's also a display on the Centerville Powerhouse, the oldest in California. The old Centerville Cemetery is known for its historic headstones.
The drive is nice since it offers a view of Butte Creek Canyon from the other side of the creek. The road turns to gravel, and about a mile past Centerville, it crosses a PG&E flume, popular for jogging and walking.
Honey Run Covered Bridge
1670 Honey Run Rd.
Five miles east of Chico, Take the Skyway, turn left on Honey Run Rd.
To Reserve: (530) 895-1243
Visit Them
Colman (Centerville) Memorial Community Museum
13548 Centerville Rd.
(530) 893-9667
Hrs: 1-4 Weekends
E-mail: [email protected]