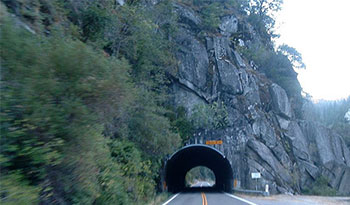 Dedicated in October, 1998, this 130-mile drive beginning in Oroville offers spectacular views of the Feather River Canyon. With much of it carved out of solid granite and rock cliffs and completed in 1935, the Feather River highway features miles of roadway that crisscross the north fork of the Feather River and several tributary streams as it winds through Plumas National Forest.
A spectacular drive for scenery during any season, we especially enjoy it in Spring with nearly 100 waterfalls flowing and 1000s of wildflowers and in the Fall for Autumn color.
The steel arch bridge located about 30 miles north of Oroville is one of the wonders of construction on this breathtaking drive. The 680 foot long structure is 200 feet above the river and 170 feet above the Western Pacific Railroad bridge below. The bridge is unique in that it not only curves as it crosses the river, but is also banked, creating a span that both curves and twists at about a five-degree angle.
Along the drive, you'll see several PG&E hydroelectric facilities, and will travel through three tunnels; the third and longest is 1,187 feet and has viewing windows on the north side. The tunnels were a WPA project, with some of the rock removed from inside the tunnels used in the stone guardrails seen throughout the drive.
Also, of note if you're interested in rock climbing is Grizzly Dome, where folks scale the vertical rock, near one of the tunnels.
Feather River Canyon National Scenic Byway
(530) 534-6500
Hwy. 70 to Belden Town & Beyond