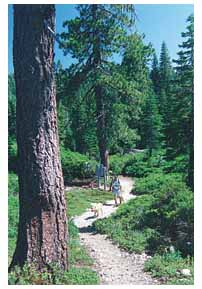 Hike & Climb
Table Mountain
Table Mtn. Blvd. to Cherokee Rd., to the mountaintop
If you haven't been to the top of Table Mountain in the Spring, you've missed a sight that folks travel from afar to view–the wildflowers in bloom.
You'll see them in multiple sizes and many shades of yellow, pink, and white along with the striking bluish-purple lupines and brilliant golden poppies. You may also see people flying kites.
If you park your car and hike, please walk only in designated areas. For the very hearty, there are many hidden surprises, including beautiful waterfalls.
For a guide to recognizing and learning about the wildflowers, buy a copy of Wildflowers of Table Mountain – Butte County, California by Samantha Mackey and Albin Bills, illustrated by Larry Jansen. The book can be found in some Chamber of Commerce offices or by ordering from: Biological Sciences Herbarium, CSU, Chico, CA, 95929-0515 or call 530-898-5381.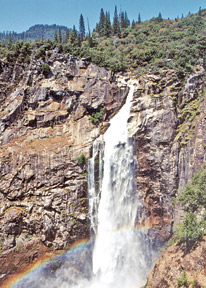 Feather Falls
Plumas National Forest • 530-534-6500
Olive Hwy. east to Forbestown Rd., north on Lumpkin Rd.
To view this magnificent 640 foot waterfall, you'll need about four hours of time since it's a seven-mile, round-trip hike, but we bet you'll remember the breathtaking view for months to come. Markers appear every half mile to show distance traveled, and hikers are cautioned to take along plenty of drinking water and to wear adequate footwear for the hike.
There are two trails—a moderate and a strenuous one. Both feature magnificent scenery. Many enjoy taking a picnic lunch to enjoy leisurely.Be cautioned that on the strenuous trail, the last mile on the way back to the trailhead is uphill, so allow plenty of time to complete the hike before dark.
Bald Rock
Plumas National Forest 530-534-6500
Hwy. 162 North to Berry Creek, right on Bald Rock Rd. Turn left downhill into well-signed parking area
It's only a quarter-mile hike from the parking area to the huge Bald Rock formations. The spectacular view of the Sacramento Valley and coastal ranges make it a hike worth taking.
There are many unique formations atop Bald Rock, and outstanding views in every direction. The Maidu have a legend of a monster called Uino who protects the middle fork of the Feather River from his dwelling atop Bald Rock. We commend his choice of vistas.