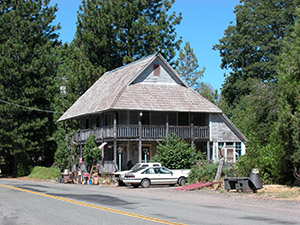 About nine miles north of the Bald Rock turnoff, you will pass an old, gray, two-story building. This is Mountain House, an old stage coach stop, which is the only one left of the four that were on this stretch between Oroville and Quincy.
The Register of Historic California Businesses has given a certificate to Mountain House, verifying its operation in 1849. The robber, Black Bart, is said to have used the basement as a hideout.
Mountain House
9 miles north of Berry Creek on Oro-Quincy Hwy.