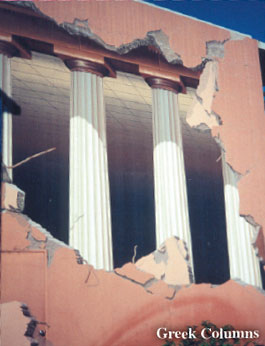 You don't have to be an art lover to enjoy the many murals on the CSUC campus and in Chico's downtown area. All you need is a sense of fun.
For a bit of Chico history, don't miss Scott Teeple's rendering of John and Annie Bidwell on Second Street on the wall facing the art deco building.
Commemorating the 1937 filming of "The Adventures of Robin Hood" in Bidwell Park is the mural on Campus Bikes at Main/Fourth. There you'll find Robin Hood in Sherwood Forest One of the newer murals in Chico is Languages Houses, which is on Mid Valley Title's parking lot wall at Sixth and Main. It features six Victorian homes.
If you have children, be sure and checkout the murals inside the kids section at In Motion Fitness. They give an awesome vision of life Under the Sea.
We're especially fond of the doubleheader New York cityscapes inside and outside at Brooklyn Bridge Bagel Works, and one that tugs at our heartstrings is Giacomo's Vineyard inside the Sicilian Cafe because Giacomo's (James') grandparents immigrated to America from Sicily in the 1950's, and many of the recipes still used in the restaurant are theirs. The mural serves as a warm tribute to their heritage. There's more, and they're all fun to view. Pick up a map at the Visitor Center at Fifth and Main. Then go on your own mural treasure hunt and choose your favorite!
Chico Murals Partial List
AicoraGems "Jewelry Box" Gallery
1334 Mangrove Ave (by Scott Teeple)

Robin Hood (by Scott Teeple)
Campus Bikes, 4th/Main Streets

The Beatles (by Gregg Payne)
Main St. between 1st & 2nd Sts.

The Bidwells (by Teeple)
Near Second & Broadway

Giacomo's Vineyard (by Teeple)
– inside Sicilian Cafe, 1020 Main Street

New York Cityscape
-inside/outside Brooklyn Bridge Bagel Works,
2nd St. between Main & Broadway

Downtown Kaleidoscope (by Jesus Ramirez)
in park, 1st & Broadway

Wall of Boys & Girls Club (D. Tellesen)
Seventh & Main Streets

Under the Sea (by Lauri Chiodini)
-inside In Motion Fitness
1293 E. First Avenue

Pony Express (by Crane)
Broadway near 5th Street

Municipal Center Art Walls-inside
411 Main Street

Salem Street Art Walls
(by Dayton Claudio) 3rd & Salem

Fake Windows (by Teeple)
Collier's, 105 Broadway

Language Houses (by Scott Teeple)
Mid Valley parking lot, 6th/Main

Nature Scenes (by Gregg Payne)
On bridge supports throughout
Bidwell Park

Greek Columns (by John Pugh),
E. 1st St. at Salem