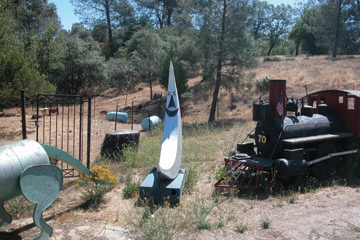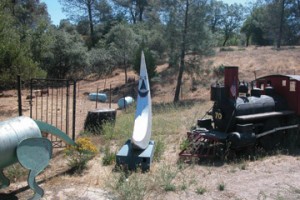 More than just an art galley, Fir Street Gallery & Gifts features jewelry, specialty gifts, and home furnishings as well.
Made in Paradise Gift Shop & Gallery is an integrated artist's studio, gift shop and gallery. It is a great place to admire local artwork and unique handmade treasures. Made in Paradise is also part of a non-profit agency that serves adults with developmental disabilities, and all profits go to support this cause.
As a teenager, Stan McEtchin worked in the shipyards as a welder and pipe fitter in Vancouver, British Columbia. He liked welding leftover metal into gizmos, and other people seemed to like the results. Stan moved to Paradise 20 years ago, after a stint in Seattle, Washington.
At 80+ years young, Stan McEtchin is still making metal sculptures and gizmos. In fact, his property is lined with these fun creations. There are outer-space characters, flowers, animals, train engines, etc., and all are created with leftover metal in ingenious ways.
In 2004, Stan joined with David Barta and fabricated the Ancestor Gates located at 20th Street Community Park in Chico. You'll want to see them, as well as all the gizmos at Stan's place.
The Paradise Art Center is a teaching facility that also regularly mounts exhibits of local artwork.
It's stimulating and fun to visit whether you're interested in purchasing or just want to view some lovely works. Or who knows, maybe you'd like to sign up for a class.
The Paradise Art Walk is a special event held several times a year with over a dozen venues participating. Call or check the website listed below.
Fir Street Gallery & Gifts
6256 Skyway
(530) 872-8889

Made in Paradise Gift Shop & Gallery
7323 Skyway
(530) 872-3296

Paradise Art Center
5564 Almond St.
877-9356, 877-7402 (Saturdays)
Visit Them

Stan McEtchin Metal Sculpture
70 Wayland Road, just off Neal
(530) 877-2695