Antiques and Collectables
An antique or collectable is something old or something collectible and includes everything from furniture to coins, published materials and home decor. Whether you are looking for a bargain or trying to furnish your entire home, Paradise antique stores probably have what you are looking for even when you don't know what that is until you see it.
Because there are so many unique stores tucked away throughout Paradise, it can be an exciting, interesting and rewarding way to spend a day or two. Antiquing in Paradise can also be a great way to furnish your home in a vintage style, or find just the right piece for that special spot or corner you've been trying to fill.
While in the store strike up a conversation as you look around and don't hesitate to ask if the store specializes in particular styles or types of antiques. Also ask if the proprietor belongs to any dealer associations or if he or she is a certified appraiser. The more knowledge and education the seller has, the more you will learn about the fascinating world of antiques. Maybe you have some antiques of your own. Now's time to discuss them with the dealers.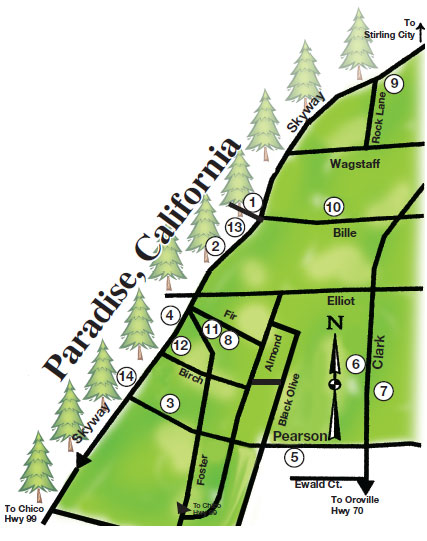 1. Anna's Repurposed Furnishings
969 Bille Rd. – (530) 877-4889
Wed.- Sat. 11-5, Sun. 12-4
Collectibles, home decor, Used furniture, Fun vintage Items, bric a brac and more.
Read More

2. Attic Treasures Mall
7409 Skyway – (530) 876-1541
Mon.- Sat. 10-5, Sun. 11-5
10,000 Sq. Ft. of Shopping on Two Levels. Gifts, Antique Furniture, Over 35 Dealers.
Read More

3. Aunt Mabel's General Store
35 Pearson Road – (530) 872-7783
Mon.- Sat. 10-5, Sun. 12-5
Buy & Sell Antiques, Fine Jewelry, Collectibles & Furniture
Read More

4. Bobbi's Boutique
6181 Skyway – 876-0877
Mon.-Sat. 10-5, Wed.. 10-7, Clsd. Sun.
Ladies Clothing and Accessories
Read more

5. Deju Vu of Paradise
480 Pearson Rd. – 413-9648
Mon.-Sat. 10-5, Sun. 11-4,
Vintage Antiques & Collectibles, many local dealers. Large garden area. Like us on Facebook
Read more

6. Dove's Gypsy Heart Boutique
5905 Clark Rd. – (530) 872-2200
Mon.- Fri. 10-5:30, Sat. 10-4
Annie Soan Chalk Paint , Boutique clothing, jewelry & accessories. Home decor, Gifts and more.
Read more

7. HeavenScent Candles
5878 Clark Rd. – (530) 877-2900
6177 Skyway – (530) 877-2909
Mon.- Fri. 10-5:30, Sat. 10-4
Gifts plus unique hand made candles created in house & specialty ornaments. Visit our newly opened 2nd location.
Read more

8. House of Color
700 Fir St. – (530) 877-4637
Mon.- Fri. 10-4, Clsd. Sat. Sun.
Preservation & Conservation, Picture Framing / Unique Matting Kachina Art Gallery & Prints, Art Supplies
Read more

9. Jeannie's Consignment
Buy – Sell – Consign
8672 Skyway – (530) 877-6650
www.jeanniesconsignment.com
Mon.-Sat. 10-5, Sun. 12-4, Clsd. Wed.
8,000 sq. ft. of Wallet friendly treasures for your home. Housewares to Estates Antiques.
Read more

10. Joy Lyns' Heavenly Candies
1183 Bille Rd. – (530) 872-9167
Open: Oct.-May Mon.- Sat. 10-5
Featuring over 60 handmade chocolates, candies, gift baskets & specialty items. Visit us for a delicious sample. and watch candies being made through the viewing window.
Read more

11. Paradise Crafts & Gift Shoppe
698 Fir St. – (530) 877-7826
www.paradisecraftsandgift.com
Mon. – Fri. 10-5:30, Sat. 10-5
Local Crafters say they're glad we're here!
Read more

12. Skyway Antique Mall
6118 Skyway – (530) 877-6503
www.skywayantiquemall.com
Mon.- Sat. 10-5, Sun. 12-5
Antiques & Collectibles, 24 Dealers, 8,000 sq. ft., Reproduction Hardware, Howard's Products.
Read more

13. Skyway Blue Consignment & Collectibles
~A Repeat Performance~
7529 Skyway – (530) 876 – 9059
www.skywayblue.com
Tue. – Sat. 10-6
Skyway Blue is a shop with mostly antiques, artwork, retro, vinyl LPs and vintage items.
Read more

14. Treasures From Paradise Mall
6051 Skyway – (530) 872-4200
[email protected]
Mon.- Sat. 10-5, Sun. 11-4
Antiques & Collectibles. Buy & Sell. We Have Over 25 Dealers & Over 10,000 Sq. Ft. on 2 Levels.
Read more