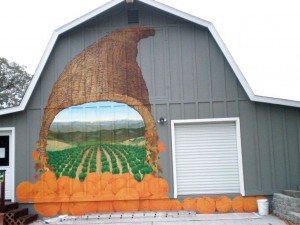 Satsuma mandarins, sweet, juicy, seedless oranges with a thin, loose peel, grow in many places throughout Butte County, but if you drive almong the foothills east of Oroville in the "citrus corridor", you will find the farm signs along the roadways of Mt. Ida Rd., Featherdale Dr. and Olive Hwy. directing you to some of the tastiest mandarins in the nation. The mandarin season starts in late November and runs through mid-January, and the places we've listed welcome visitors.
Mt. Ida Mandarin Ranch mandarins are the great tasting, seedless Satsuma mandarins. They are very sweet, easy to peel, and excellent for eating or juicing. The Mt. Ida Mandarin Ranch has been a great source for holiday gift packages.
Morse Farms started in 2002 with the planting of 400 satsuma mandarin trees and a variety of lemons, limes, navel oranges, grapefruits and minneolas. They also produce mandarin marmalade, mandarin syrup, mandarin olive oil, mandarin jalapeno barbeque sauce and meat and vegetable seasoning and rubs.
Lou and Lola Lodigiani farm the five acre Tri-L Mandarin Ranch. During a good year their 850 trees will produce 85 tons of Owari Satsuma mandarins acclaimed supurb by Graham Kerr culinary and TV personality. Tri-L will have its annual Harvest Festival in early December 2016 with free admission.
If you've read a recent copy of "Wine Spectator" magazine, you'll know that Oroville is rated as the best place in the nation to grow olives. And that explains why olive oil made from Oroville's olives are taking "Best of Show" awards at the Los Angeles County Fair—the fair in the nation for olive oil judging!
We spoke with three of the local growers and olive oil producers and were impressed to learn that each of them had traveled abroad to study the process of making olive oil, one in France, one in Spain, and one in Italy.
The Berkeley Olive Grove spans 500 acres of mission olive trees that were planted by the University of California in 1913. The 500-acre site was chosen for its unique volcanic soil and climate.
Chaffin Family Orchards is a five generation family farm located in a warm air belt that wraps around the town of Oroville. The farm has been harvesting and producing olives and olive oil for over 75 years. For over 50 years the farm has produced beef cattle, citrus, stone fruits, and avocados.
The Wagon Wheel Market on Olive Highway carries many of the local olive oils, but Lodestar Farms also has a tasting room and gives tours; however, a phone call to any of them can get you an appointment to sample the best extra virgin olive oil this side of the Mediterranean!
The Purple Pig Blueberry Farm started January 2012 with 119 Southmoon and Jubilee Highbush blueberry plants and expanded in 2013 for a total of 189 plants. These are capable of producing about 20 pounds of berries per plant. These large juicy
berries are hand picked, sorted and packaged in Oroville in May and June. The berries are picked to order.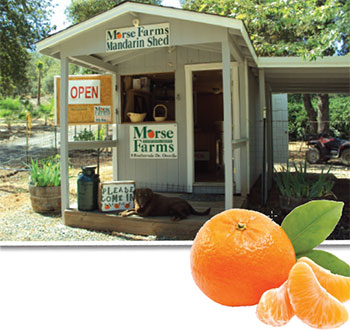 The Sierra Oro Farm Trail Map features many of the above-mentioned farms, ranches and vineyards. The maps are available from the Butte County communities' Chambers of Commerce or call 530-566-9849.
Butte County farmers annually host (October 2016) a weekend of wine tasting and farm-fresh food sampling called the Sierra Oro Farm Trail Passport Weekend. The Passport Weekend showcases the wineries and farms currently on the Farm Trail Map. Tickets for the Passport Weekend are $30 per person and include free tasting at all farms on the map.
All proceeds go to benefit the Sierra Oro Farm Trail Association to further develop agri-tourism in Butte County. The Farm Trail destinations include more than 20 specialty farms/shops and 13 wineries. A Farm Trail Map gives directions to each participating destination and also highlights local tourist attractions, historic landmarks, hotels and fine dining.
In addition to a hard copy of the map, visitors can plan their own tour, get the current tour dates & times, ticket information and more at www.sierraoro. org, or emailing: [email protected].
Morse Mandarin Farms
8 Featherdale Dr., Oroville, CA 95966
(530) 589-2126
More Details

Mt. Ida Mandarin Ranch
845 Mt. Ida Rd., Oroville, CA 95966
(530) 589-5799, Fax: (530) 589-5949
More Details

Tri-L Mandarin Ranch
Entrance on Mt. Ida Rd., near intersection of Mt. Ida & Naranja, Oroville, CA 95966
(530) 534-4316, Fax: (530) 534-1397
More Details

Berkeley Olive Grove
Oroville, Ca. 95965
(530) 533-1814
More Details

Butte View Olive Co.
2950 Louis Ave., Oroville, CA 95966
(530) 534-8320
More Details

Chaffin Family Orchards
606 Coal Canyon Road
Oroville, Ca. 95965
(530) 533-1676, (530) 533-8239

Lodestar Farms Olive Oil
3719 Foothill Blvd., Oroville, CA 95966
(530) 534-6548
More Details

The Purple Pig Blueberry Farm
Oroville, Ca. 95966
(530) 589-4736
More Details

Sierra Oro Farm Trail Map
(530) 566-9849
More Details