Chico, California is ranked as one of the "100 Best Small Art Towns in America." We could write a book about the artistic talent and galleries in this town. Our goal is to help you explore the art scene in Chico, hit some of the high points, and make sure you get the most out of your time. There's lots of art to see and it will be all around us. If you're ready, lets get going.
MORNING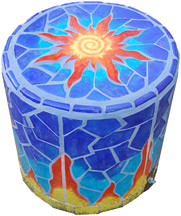 We could easily spend a week visiting the galleries and finding the public art displays, but we'll limit our exploration to just one day. Let's begin in downtown Chico with the Luminary Art Benches which are the result of a project to create artistic tributes to world-renowned persons who either lived in Chico at one time and went on to become famous in his or her field, or who contributed to the character of Chico in a significant way. Chico is the theme of all the Pedestal Art Seats. A brochure featuring a walking map and detailed description of the benches and pedestal seats is available at the Chico Chamber of Commerce and at many of the art galleries.
Benches celebrating the following Chico luminaries are installed in downtown Chico: Architect Julia Morgan is honored by artist Jenna Mae Hepworth; the achievements of Astronomer Carolyn Spellman-Shoemaker are celebrated with a bench by artist David Barta; Painter Jackson Pollock is depicted in mosaic tile by artist Robin Indar; Writer Raymond Carver, who lived in Chico in the late 1950's, is honored by artist Dylan Tellesen; Actor Erroll Flynn and the 1938 filming of "The Adventures of Robin Hood" in Bidwell Park are recognized by mosaic artist Christen Derr; in recognition of the contribution of Chinese workers to Chico's history and dedicated to the memory of Andrea Spressards Christen Derr designed a mosaic tile bench; John Muir is remembered with a concrete and bronze bench by Michael Ginnattasio; Franz Cilensek (Santa Claus to generations of locals) is honored by a mosaic tile bench by Pat Koszies and Kay Wooldridge; Sir Joseph Hooker's bench is a concrete and bronze creation by Juan Cole and Jeff Lerche; and Susan B. Anthony is remembered by a concrete and metal bench 
created by Jean Summerville.
Julia Morgan was California's first female architect who designed well over 700 buildings including Hearst Castle and the Albert E. Warrens Reception Center (formerly the President's House) at CSU, Chico.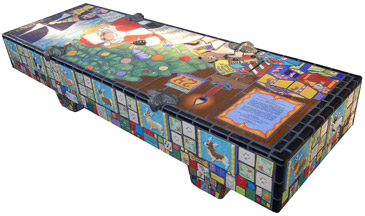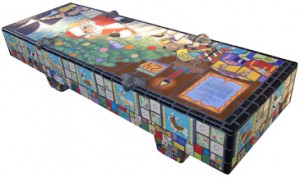 Astronomer Carolyn Spellman-Shoemaker, who holds the world record for comet discoveries, grew up in Chico and graduated from Chico State College with her Bachelor of Arts and Master of Arts in 1949 and 1950, respectively.
A bench not to be missed is one done by mosaic artist Christen Derr in remembrance of Chinese workers' contributions to Chico's early history. It is dedicated to Andrea Spessard (1980-2004).
LUNCH
Right on the corner of Broadway and 3th upstairs in the . . . . . building is the Broadway Heights restaurant featuring wonderful California cuisine and award winning sandwiches.
AFTERNOON
Just a half a block away is pour first stop of the afternoon. Art etc. etc. etc. has been in town, centrally located between Main and Broadway on 3rd, for 33 years and has had artist-owners for the past few. Especially unique about the shop is that the entire staff are artists (paper, oil, watercolor). The shop is popular with local artists because all of the framing work is done in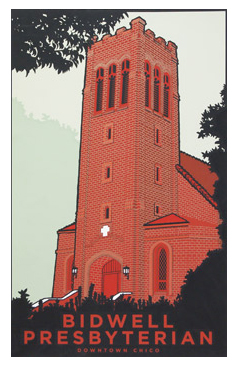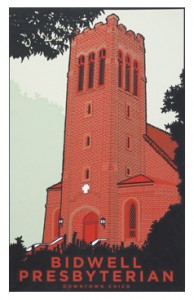 the store. Particularly interesting here are the estate print collections.
Nearby is A gallery and gift store to be savored is the Vagabond Rose. Some of the area's finest painters, photographers, woodworkers, and potters exhibit their work here. Many have received national and international acclaim, including Janet Turner, Salvatore Casa, and Kenneth Parker. Fine art is displayed amidst quality crafts and collectibles.
From Vagabond Rose we'll walk south on Broadway to Chico Paper Co., a Chico cornerstone for more than 40 years, is owned by a unique husband-wife team. She has a masters degree in fine arts, and he has been a framer for 29 years. All design staff members have either a Master of Fine Arts or a Bachelor of Arts degree. Housed within the 2,500 square foot gallery are works of sculpture, jewelry, pottery, paintings, limited edition prints, hand-blown glass, posters and bonsai. The gallery focuses largely on representing more than 25 local artists but also shows regional, national and international art. Also known for its extraordinary selection of frames and skill at framing three-dimensional art and mirrors, as well as traditional media on paper or canvas. The shop is a long-standing member of the P.P.F.A. (Professional Picture Framing Association.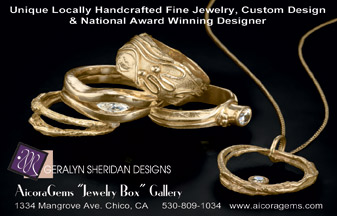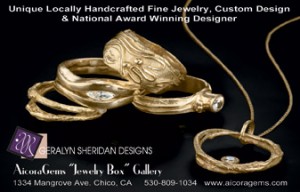 Next we'll have to catch the B-Line or go by car to AicoraGems "Jewelry Box" Gallery where we'll see one of Chico's most unique public murals, a giant wooden jewelry box by Scott Teeple. A visit inside mimics an Alice in Wonderland type experience . . . passing through the door of the jewelry box to the inside where the creative brilliance will surprise you. AicoraGems features national award winning designer Geralyn Sheridan's eco-friendly collections as well as handcrafted fine jewelry by several other talented local metalsmiths, Paul Crosbie's art glass and periodic visiting artists. Definitely a must see.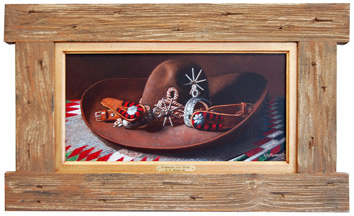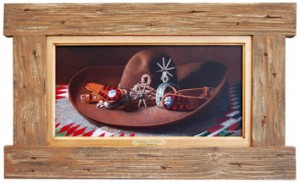 Now on to At the Sally Dimas Art Gallery & Studio, the owner, an artist herself, also carries works by other local and regional painters, potters, and jewelers. Every wall is adorned with works by different artists.
At the end of our tour we'll return downtown and if our timing is good we can experience Second Friday ARTabouts put on by Chico Visual Arts Alliance (ChiVAA) a 501c3 umbrella organization linking art groups and individual artists and enabling them to have a united voice, presence, and visibility in Chico. One of their most successful programs is the monthly Second Friday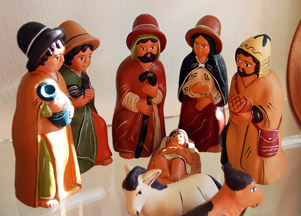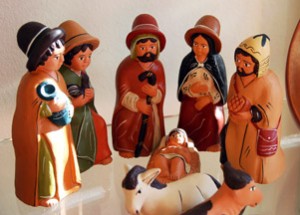 ARTabouts where artists open up their studios and galleries welcome the public. These festivities take place from 5 to 8 p.m. on a rotating basis in three Chico neighborhoods: Uptown, Downtown, and SOPA (South of the Post Office). These are a great way to get to know your own neighborhood or someone else's and a refreshing activity for the whole family—and it's free! The map for the particular neighborhood-of-the-month, together with a listing of participants is published in the Enterprise-Record and is also available on the "ARTabout Chico" Facebook page, as well as on the group's website. For more information, please call 530-487-4553 or go to www.chivaa.org