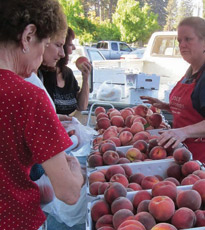 At one time Paradise was known as California's apple center, and the first apple celebration here was in 1880 and was called the Harvest Home Festival. Through the years, the festival had many names and in 1968 it became Johnny Appleseed Days.
You can still visit an apple orchard that has producing trees that date back to the late 1800's. Since 1921 the Noble Orchards have been producing apples. It's still family run, and is the last of such farms on the Ridge. Seventeen varieties of apples are harvested from the now 30 acres and 20 acres of peaches and nectarines. Pies for the Johnny Appleseed Festival are made from Noble Orchard apples.
History buffs will appreciate the 1932 fruit packing shed still in use today, and collectors will appreciate the original fruit labels (ones that were never put on those old wooden boxes).
So whether you just want to purchase some quality apples or experience a little of the Ridge history, you'll enjoy a visit to Noble Orchards.
Noble Orchards
7050 Pentz Rd.
(530) 877-4784
Open to the public July through late Winter