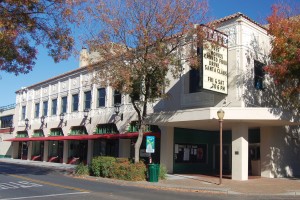 Historic State Theatre of Oroville
Dedicated in 1928, this theater has featured great vaudeville acts, fine films, and multiple live music, dance, and drama performances. The theater was designed by Timothy L. Pflueger and J.R. Miller, who also created the Pacific Telephone and Telegraph Building in San Francisco.
The State was restored to much of its original grandeur in the late 1980s with additional restoration projects being completed every few years. The theatre now has an outstanding lineup each season of national touring companies as well as local groups presenting music, dance, comedy, and drama.

To hear a narrative on this historic attraction, dial 530-539-3004 and press 106.
Historic State Theatre of Oroville
At Myers & Robinson
Tickets: (530) 538-2415
Box Office Information Recording: (530) 538-2470
See more