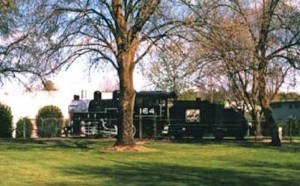 Locomotive buffs will enjoy these two old steam engines. Railroads were an important part of Oroville's history since the lumber industry played a dominant role in the local economy and depended heavily on the railroads.
The Shay engine located on the Park Avenue side originally belonged to the Hutchinson Lumber Co., purchased to operate on its private 20-mile logging railroad in the foothills east of here.
Both engines represent an important part of Oroville history.
Hewitt Park Steam Engines
Between Baldwin & Park Ave.,
access on Daryl Porter