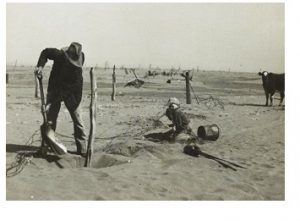 BOLT'S ANTIQUE TOOL MUSEUM PRESENTS BUD BOLT and "THE DUST BOWL"
The musuem's founder, Bud Bolt, will be sharing his first-hand
account of the dust bowl era in America (1930s). Bud's family's
farm was in Nebraska and he has many personal insights and
observations. If you've ever read the book "The Grapes of Wrath"
or seen the movie you have an idea of the desperation and hard
times. Don't miss the opportunity to listen to someone who was
actually there. Other "old timers" who were there are welcome
as well!
Questions: 530-538-2528
Website: www.boltsantiquetools.com
Become our facebook friend too!
2017 THIRD SATURDAY PRESENTATION SCHEDULE
February 18 – The Dust Bowl – Bud Bolt
March 18 – The Mountain Man – "Iron Hand" Green
April 15 – Classic Cars – Franklin "Air Cooled" – Bill Charpier
May 20 – Ford Model T – Ed Rose
June 17 – Edsel Automobiles – Garry Gunderson & friends
July 15 – The Ironworking Tradition
August 19 – Rare John Deere Tractors – Rod Hisken & Dax Kimmelshue
September 16 – The Biking Bolts – Alex Bolt
October 21 – If Tools Could Talk – Ron MacInnes
November 18 – Kilimanjaro Trek – Patty (Bolt) Wright
December – No Presentation
**************************
MUSEUM VOLUNTEERS NEEDED!