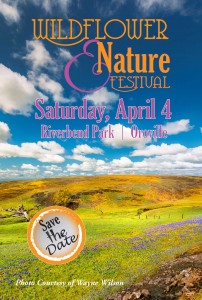 Feather River Recreation & Park District is happy to announce that we are bringing back the annual Wildflower & Nature Festival to beautiful Riverbend Park in Oroville, Ca. The festival will be held on Saturday, April 4th, 2015 from 9:00 AM – 4:00 PM with a 3K Pedal Pusher run beginning at 8:00 AM.
Feather River Recreation & Park District has partnered with the City of Oroville, the Oroville Downtown Business Association, the Nature Center, State Parks, Fish & Wildlife and the Chamber of Commerce to make the Wildflower & Nature Festival even bigger than it has been in years past. This event will be free admission and will have tons of fun activities to offer for all ages. We will be having a 3K fun run (pre‐registration for t‐shirt), bus tours to see the wildflowers on Table Mountain (pre‐registration required), a children's craft and game area, Food Truck Alley, live music and a variety of vendors selling handmade and natural items.
If you are interested in participating as a vendor, visit the District website at www.frrpd.com for a booth application. Applications may also be picked up at 1875 Feather River Blvd. Oroville, CA 95965.
If you are interested in volunteering or know of a group that may be interested please contact the district's office at (530) 533‐2011 or email [email protected]