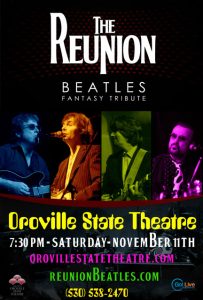 The Concert That Never Was…IS!
What if circumstances had been different? What if all four former Beatles were alive and well? What if they decided to do a reunion concert that featured many of the Beatles greatest hits plus the best of their solo work too? What would it have looked and sounded like? THE CONCERT THAT NEVER WAS…IS!
The ULTIMATE TRIBUTE features the world's greatest veteran Beatles look AND sound alike artists performing a tribute to John, Paul, George & Ringo like none that you've ever seen.
Reunion Beatles Celebrate 50 years of Love. In 1967, The Beatles released their landmark LP, "Sgt. Pepper's Lonely Hearts Club Band" which became the soundtrack for "The Summer Of Love" that very same year. It was a year that was a microcosm for the peace & love generation, hippies and flower children who's Beatles supplied mantra was simple; "All You Need Is Love." Now, 50 years later, The Beatles are back together. Never mind that two of their members are no longer alive. The Reunion Beatles – Fantasy Tribute is the rock and roll reunion of all time. The concert that never was. In this show, John, Paul George & Ringo are back together and celebrating with a concert that features all of their most memorable songs and their solo hits too.
WHO: The Reunion Beatles – Fantasy Tribute
WHAT: The Concert That Never Was…IS!
WHERE: Historic Oroville State Theatre
WHEN: Saturday (Veterans Day) Nov.11, 7:30 PM
TICKETS:
Advance: $24.95
Veterans (with Military ID): $19.95
Day Of Show: $29.95
Day Of Show -Veterans (with Military ID): $24.95
Buy tickets at: www.reunionbeatles.com/tour or www.orovillestatetheatre.com
The Musicianship! The Chemistry! And Those Amazing, Timeless, Wonderful Songs!!