Bolt's Antique Tool Museum presents Dude Green and "Pouring and Finishing Old-Style Babbitt Engine Bearings".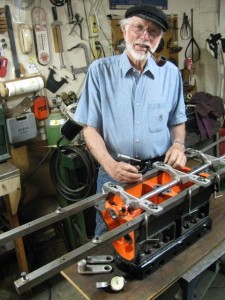 Bolt's Museum is proud to welcome Dude Green to their "Third Saturday" presentation series. With more than 50 years experience with machine tools and his interest in antique vehicles, Dude has become an expert in the nearly lost art of pouring and machining old-style babbitt engine bearings. Topics discussed will include bearing metals, pouring fixtures, finishing-tooling, safety concerns and pouring techniques. The display will include pouring equipment, fixtures, "just poured" and finished bearings and a homemade main bearing boring machine. Don't miss this chance to talk with an experienced craftsman.
1650 Broderick St., Oroville, California $3.00 admission for museum tour & talk. Questions: 530-538-2528
See our website www.boltsantiquetools.com and become our Facebook friend too !