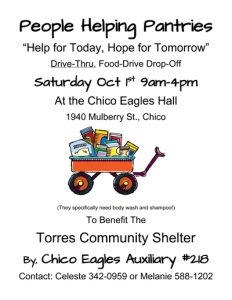 The Chico Eagles Women's Auxiliary are having a People Helping Pantries in which they are collecting food for the Torres Shelter in Chico.
Look in your own pantry for food to donate. We need any pasta, spaghetti sauce, marinara sauce, peanut butter, oatmeal, pancake mix, bisquick, maiza , canned corn tomatoes, green beans, corn, carrots, mix vegetables, canned fruit, soup all varieties, dried beans all varieties, canned meat, flour, sugar, seasonings, syrup, mayo, pickles, ketchup, mustard, canned broth, evaporated milk, cream, spices, juice, coffee and anything else you have that the residents of Torres Shelter need.
Please bring your supplies to the Chico Eagles Hall on Saturday, October 1st between 9am-4pm. Just drive through and drop off.
Please help us raise food for the Torres Shelter. The Chico Eagles Hall is located on the corner of 20th and Mulberry in Chico. For more information call Celeste at 342- 0959 or Melanie at 588-0202