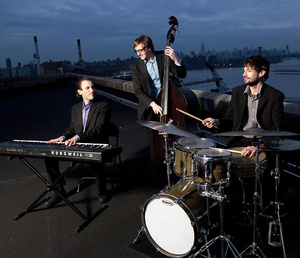 Performer, composer, arranger, improviser, and educator, Jesse Lynch is an NYC pianist with international touring experience and regularly performs in any number of musical styles.  From Beethoven to Bop to free jazz and contemporary composition, Jesse regularly straddles the spectrum of musical innovation and tradition.  With a home base in Brooklyn, he currently tours with The Jesse Lynch Trio, and is building an educational performance based show of jazz evolution, "Jesse Lynch Jazz 101".
A 2004 alumnus of Oberlin Conservatory, Jesse studied both jazz and classical performance and has an extensive professional history as a vocal accompanist and coach.  He has toured the US with multiple artists, notably with Daniel Rodriguez and also the American Tenors, and has toured internationally in New Zealand.    Upcoming projects include work with Charlie Neville, a TriBeca music/theater/dance project called "Water in the Desert", music directing and piano for the upcoming radio show "Club 86", playing in Hollywood for an Oscars After-Party, and traveling to Australia to collaborate with notable playwright Shaun Charles and New Zealand's famous "Songbirds", Marla and Marissa.
From 2005 until present Jesse has been performing seasonally at the beautiful Ahwahnee Hotel in Yosemite national park.  In 2009 his original trio album, Intuition, was released and made available on www.jesselynch.com.  Jesse collaborated with writer/poet Gil Helmick and several improvising musicians in 2008 on the album, Crimes Against Inhumanity, available on Old Port Records.  Jesse currently plays jazz, funk, opera, pop, r&b, electronic and classical music in New York City.
Oroville Concert Association
Presenting International artists at affordable prices.
For Show and Ticket information:
www.orovilleconcertassociation.org