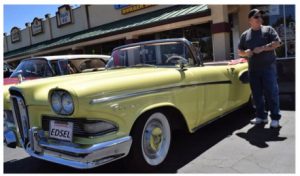 The Edsel was introduced by the Ford Motor Co. for 1958 and was heavily promoted as being a completely new and advanced design. It had many interesting features and a somewhat dignified appearance (late 1950s style). People either loved the design or hated it; but because Ford had spent so much money developing and promoting the car, it fell short of sales projections. In spite of a general recession in auto industry sales that year, Edsel was singled out and the name became synonymous with "business failure". Today, Edsels are highly prized collector cars. Garry Gunderson's friends, Dan Dirks, Richard Covell, Rogelio Martinez and Jess Noffsinger are a few of the guys who will be displaying their cars and educating us. This promises to be another great 3rd Saturday presentation. Feel free to bring your Edsel or other old car too!
1650 Broderick St, Oroville, California
$3.00 admission for museum tour and talk
Questions: 530-538-2528
Website: www.boltsantiquetools.com
Become our facebook friend too!