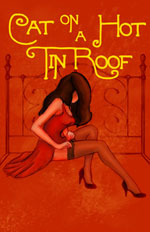 Edward Albee called Tennessee Williams — "A romantic poet of theatre…yet the driving force [of his plays] was less metaphor than actuality."
It's Big Daddy's birthday, but it may be his last. Set on a plantation in the Mississippi Delta in the 1950s, Cat on a Hot Tin Roof explores the desires and subterfuge of a family as its members grapple with each other to hide and expose secrets. The play centers on the graceful and frenetic attempts of Maggie the Cat (one of the greatest roles ever written for a female actor) to keep her marriage together. Truly one of the greatest lights in the American Theater's pantheon, this Williams classic is not to be missed.
A drama by Tennessee Williams
Directed by Eric M. Ricketts
Audience Advisory: Mature themes and explicit language.
Performance Dates
Thursdays, Fridays and Saturdays
September 3 through September 26
Sunday Matinees September 13, 20 & 27