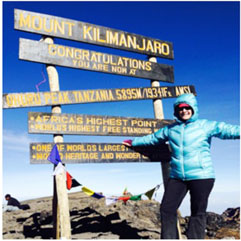 Patty (Bolt) Wright will give an informative talk and show slides from her hike to the summit of Mount Kilimanjaro. This dormant volcano is in Tanzania and is Africa's highest mountain, rising to 19,341 feet. The trek took eight days and it was a grueling climb! Come hear about it firsthand.
Bolt's Antique Tool Museum is located at 1650 Broderick Street in Oroville, California. Your $3.00 entry fee allows you to enjoy the talk and to spend as much time as you like with the over 13,000 tools displayed! For questions or directions call Bolt's at
530-538-2528.
For a schedule of upcoming talks or to learn lots of other neat things about tools remember that Bolt's has a wonderful website: www.boltsantiquetools.com. You can find us on facebook too and become a friend!
There will be no presentation in December and Bud Bolt, who founded the museum with his wife Laila, eleven years ago, along with all of the tool museum's docents, wish you a Merry Christmas and a blessed and Happy 2018.
Please look at facebook or the website (www.boltsantiquetools.com) periodically to see when and what the 2018 talks will be! And if you would like to step up and share with others something YOU specialize in, please call Alex Bolt at 530-370-3466.
Bolt's Antique Tool Museum has been proud of the fact that for some years now they have been able to keep the museum open 7 days a week. We are a little short on docents now though and have to close some days. Please consider becoming a docent, or asking a friend or two that you think might enjoy it. Help us preserve and share the history of tools… "the only thing that separates man from the animals" as Bud Bolt always says!