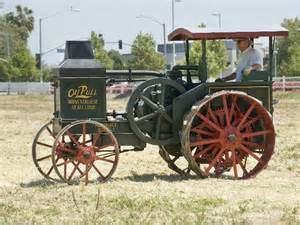 An interesting interactive presentation about vintage
tractors rolls into Bolt's Antique Tool Museum on Saturday, August 22nd starting at 10:00 A.M.
The museum continues to feature interesting special displays and "talks" about machinery used
in older times. The word tractor was taken from the Latin word "trahere" which means to pull.
The first recorded use of the word meaning "an engine or vehicle for pulling wagons or ploughs"
occurred in 1901.Cost to attend the presentation is $3.00 per person and includes a tour of the
museum. Bring a picnic lunch and enjoy spreading out a blanket on the inviting lawn across
Opened in 2006, the museum features not only tools that have been used in the United
States, but also tools from 4,000 years ago, including tools thought to be made by Egyptians
and Romans as far back as 400 B.C. A barbed-wire collection, old gas pumps, blacksmith tools
and 125 tools representing 51 different railroads provide insight into earlier days in the United States. At last count the museum had over 12,000 tools and continues to grow each day. A gift shop with interesting tool-related items and greeting cards is also available.
While at the museum be sure and check out the special monthly displays including the
The museum is located at 1650 Broderick Street in Oroville, is open Monday through
Saturday from 10:00 A.M. to 3:45 P.M. and Sundays from 11:45 A.M. to 3:45 P.M. Additional
information can be found by visiting the museum's website at www.boltsantiquetools.com or by
calling the museum at (530) 538-2528 or the City of Oroville at (530) 538-2401.