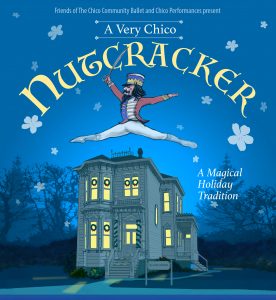 Chico Performances and the Chico Community Ballet present
A Very Chico Nutcracker
TIME: Thursday at 7:30 p.m.
Friday at 7:30 p.m.
Saturday at 2:00 p.m. & 7:30 p.m.
Sunday at 2:00 p.m.
Laxson Auditorium at California State University, Chico
COST/TICKETS:
$29 Premium
$23 Adult
$21 Senior
$13 Youth
$10 Chico State Student
For more information on purchasing tickets or the performance please visit
www.chicoperformances.com or call (530) 898-6333.
ADDITIONAL INFORMATION:
· Features more than 80 performers from Chico Community Ballet, Inspire School of The Arts, and Dance Evolution.
· 58 of the performers are local kids from the ages of 5-18.
· Autograph Party with select performers Saturday, Dec. 3 immediately following the 2 p.m. performance.
· Members of the Dr. Oscar Stansbury Association with be attending opening night, Dec. 1, in costume, and greeting guests.
· Revised story & sets, based on Dr. Oscar Stansbury's family & set in Chico, CA.
· Pre-show entertainment, visuals, and more!
Dancing its way into this holiday's season is A Very Chico Nutcracker
Celebrating 35 seasons, Chico Community Ballet embarks on the creation of a brand-new and unique concept with their bi-annual Nutcracker production at Laxson Auditorium: "A Very Chico Nutcracker." Inspired by Dr. Oscar Stansbury and his daughter Angeline, this soaring story captures the awe and expectation of the night before Christmas when a mysterious gift sparks a wondrous adventure. As the colossal Christmas tree shoots skyward and almond blossoms blanket the stage, the ballet magically takes Angeline and the audience on a journey she never expected. From an enchanted land brimming with visitors from faraway lands, waltzing almond blossoms, to a handsome prince—A Very Chico Nutcracker is the perfect holiday adventure.